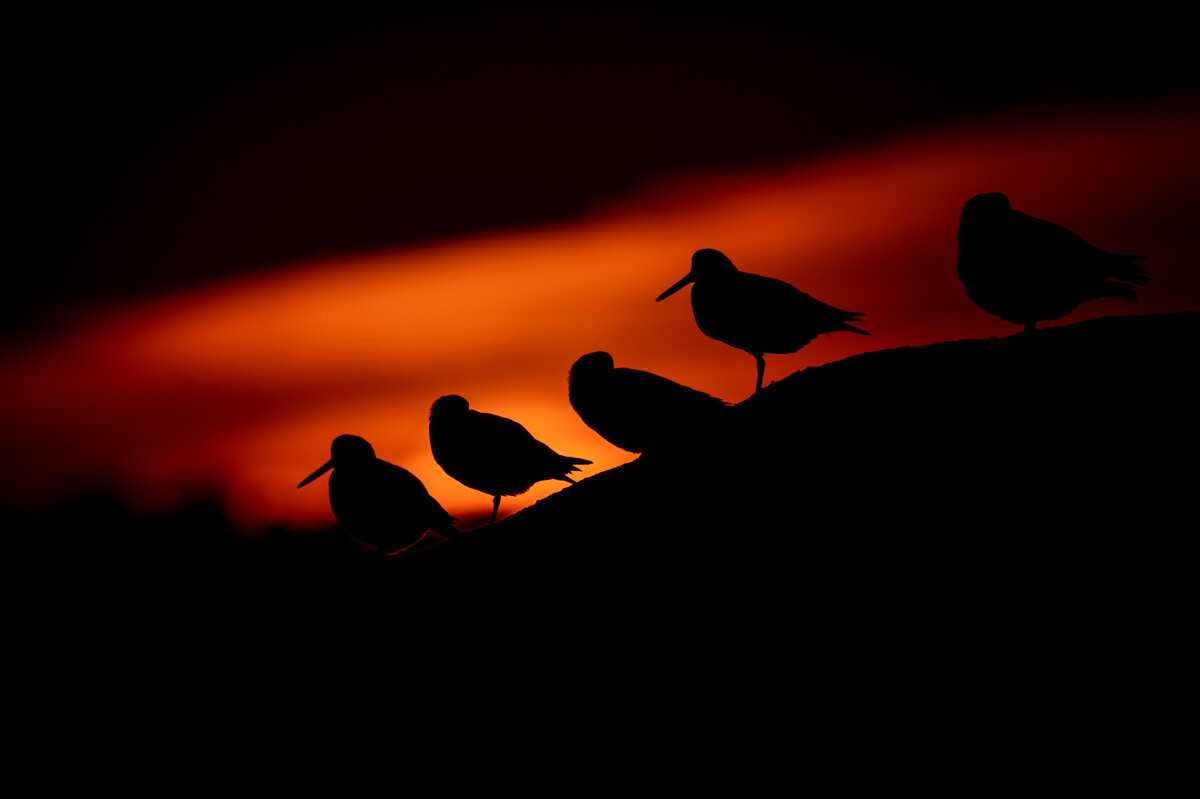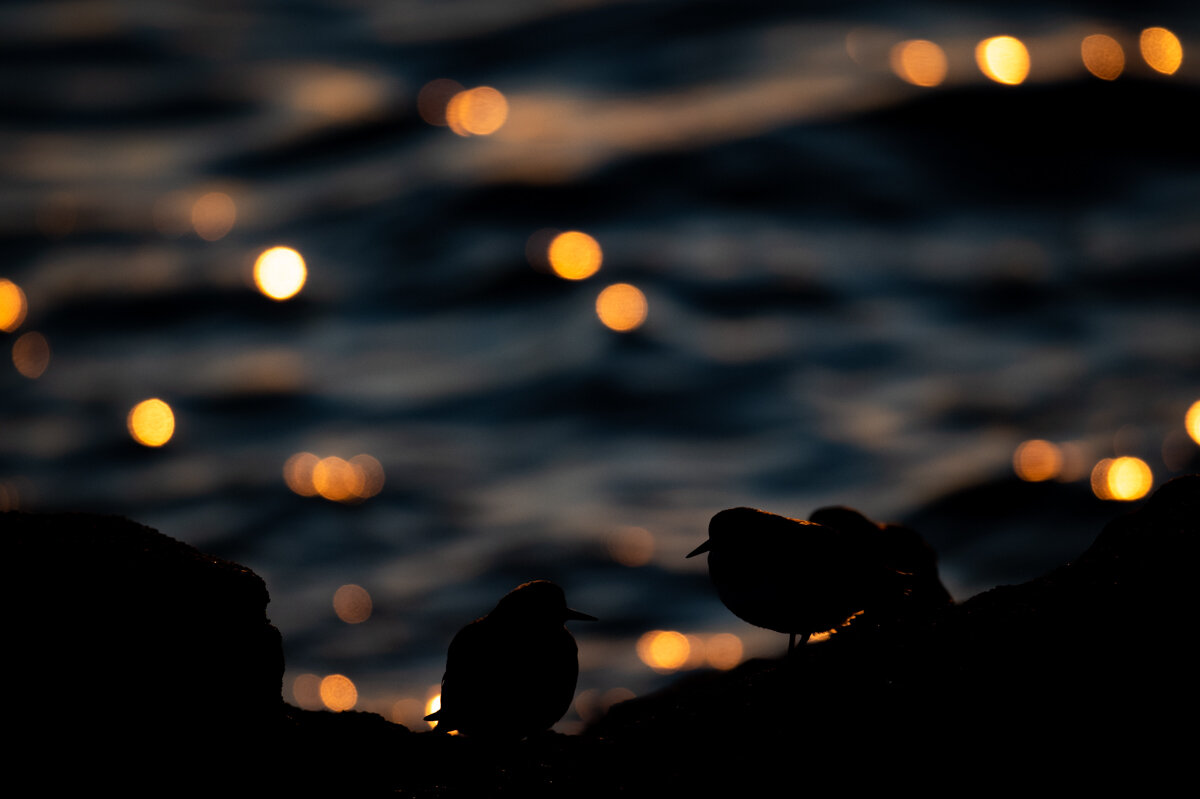 At the end of a working day
February 2023 (Finistère, France)
A few sunset lights at the end of the work day, a winter evening with a calm and magical atmosphere.
---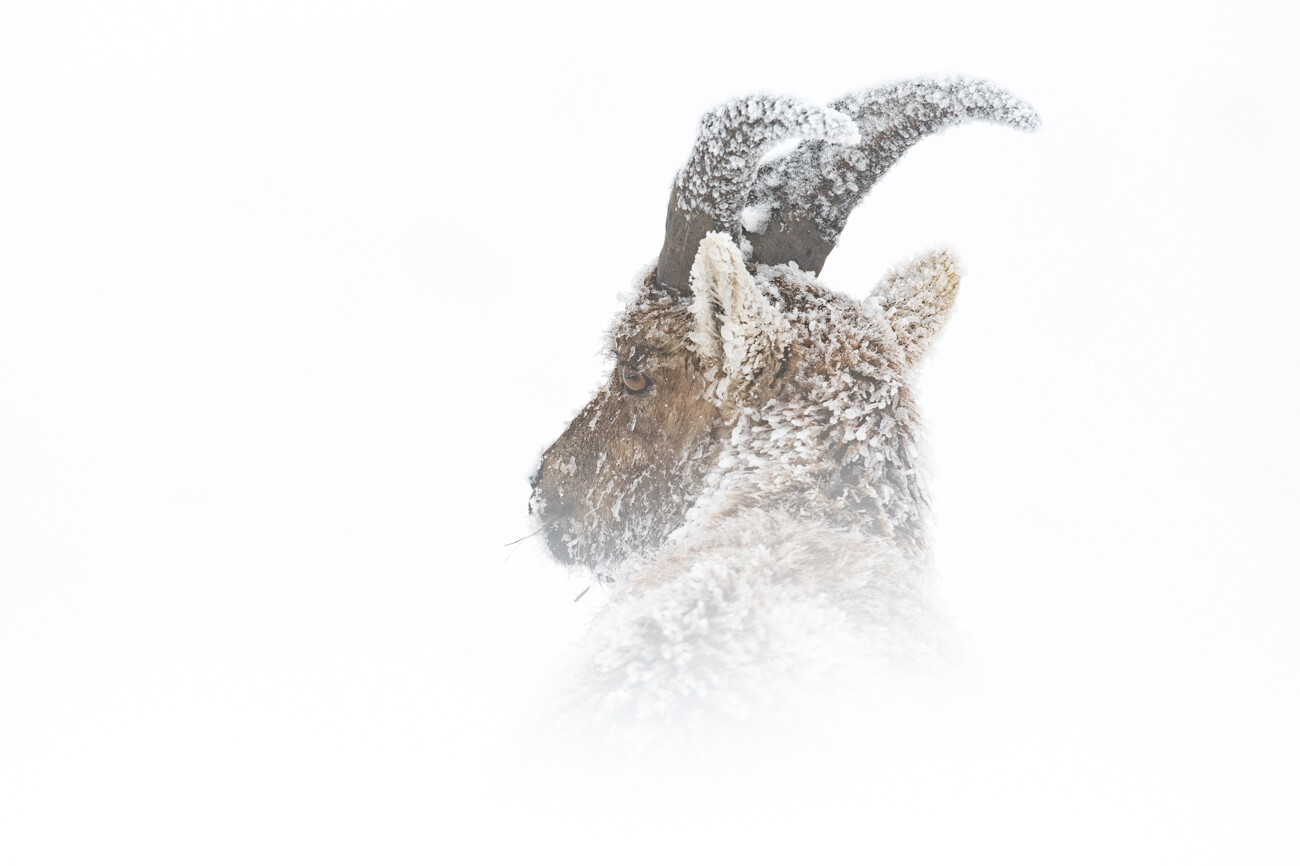 Ibex
January 2023 (Drôme, France)
Several days of bivouacking in the mountains waiting for the snowstorm, and what a pleasure when the flakes fall and the cold freezes these remarkable animals.
---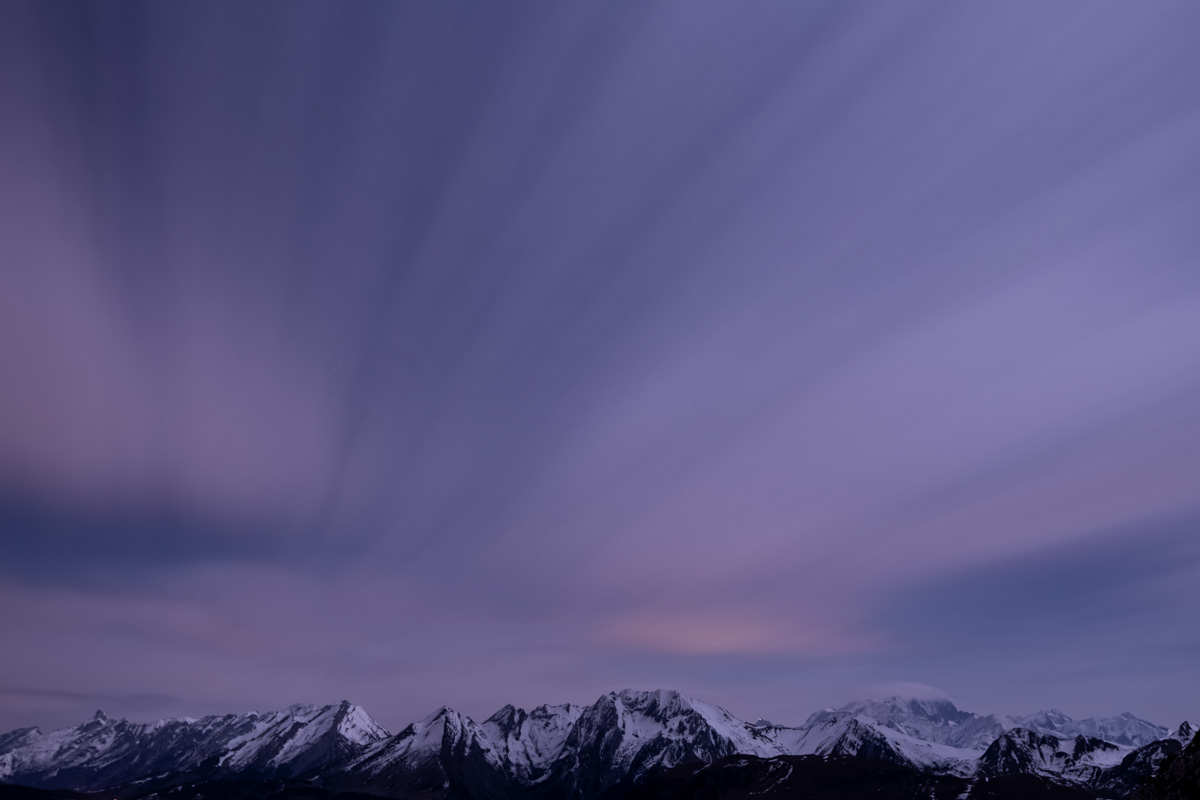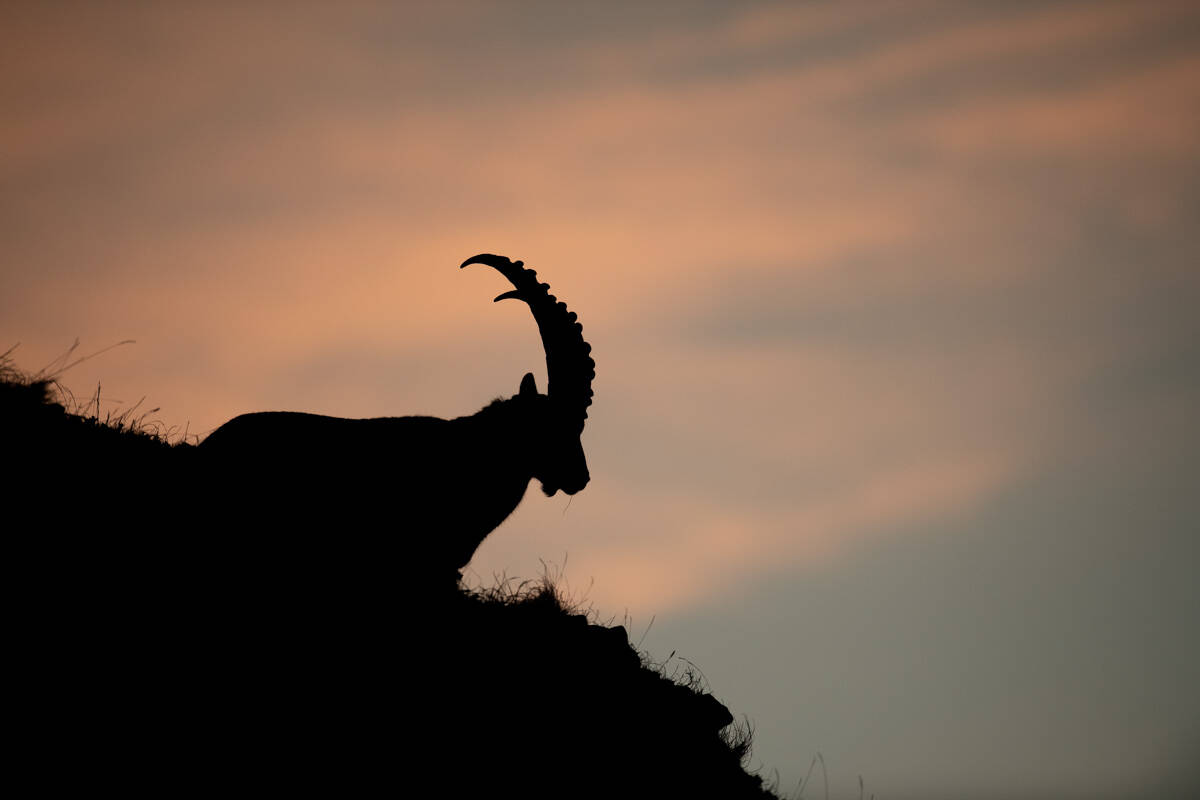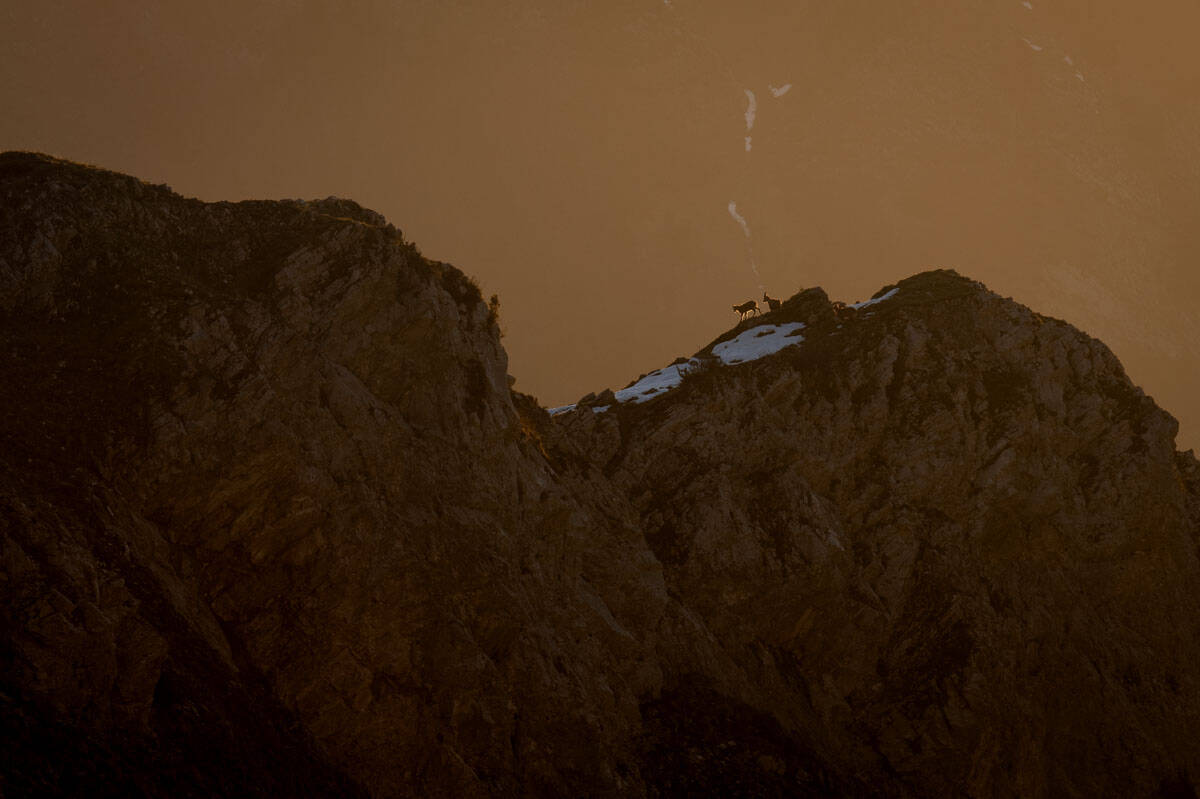 A new year bivouac in the snow
January 2023 (Haute-Savoie, France)
We spent a few days in the mountains with a friend looking for ibex and lights, sleeping in the snow. Spending whole days and nights outside allows to really live the atmosphere of the place, to observe the passage of the common Raven, the golden eagle, the bearded vulture, to live at the rhythm of the ibex and chamois.
---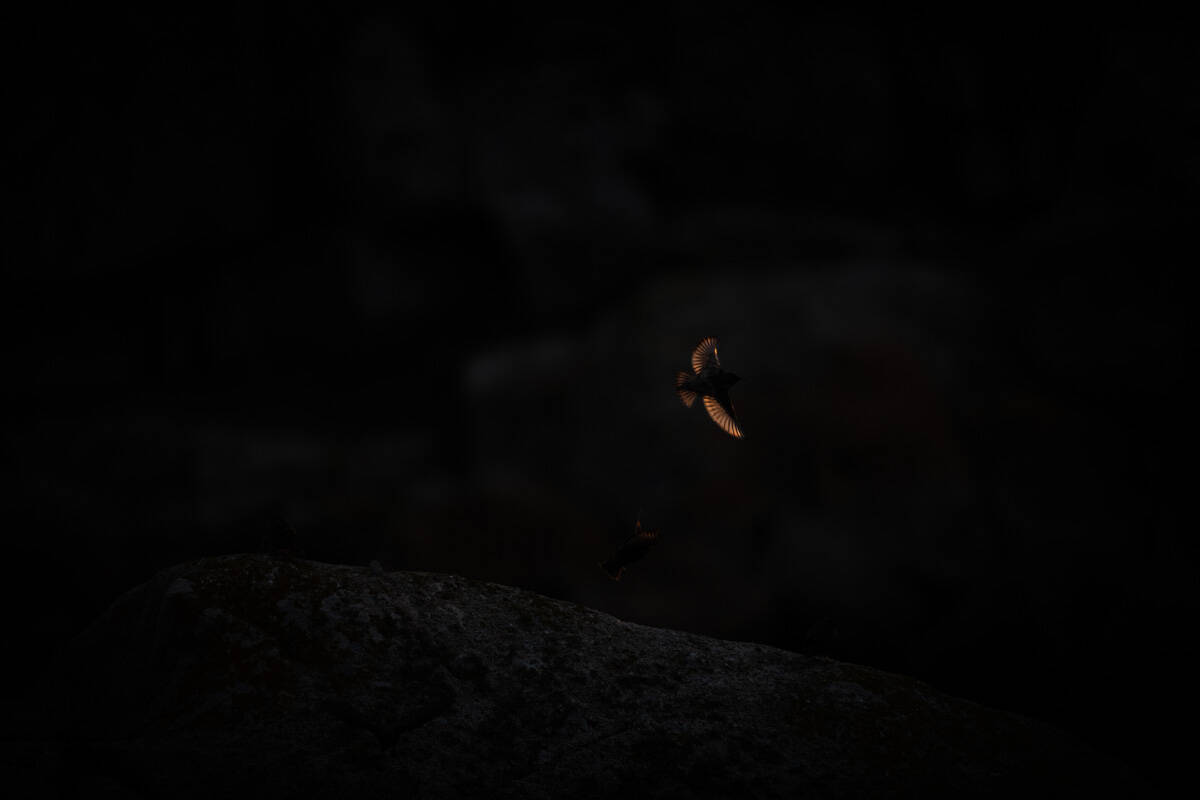 Starling in light
December 2022 (Finistère, France)
This image is not yet the one I hope to make, but it's a start. The behaviors of this common bird and in particular the interactions between individuals are very interesting, and some lights allow to draw the outlines of the bird early in the morning when it feeds in the seaweeds down from my house.
---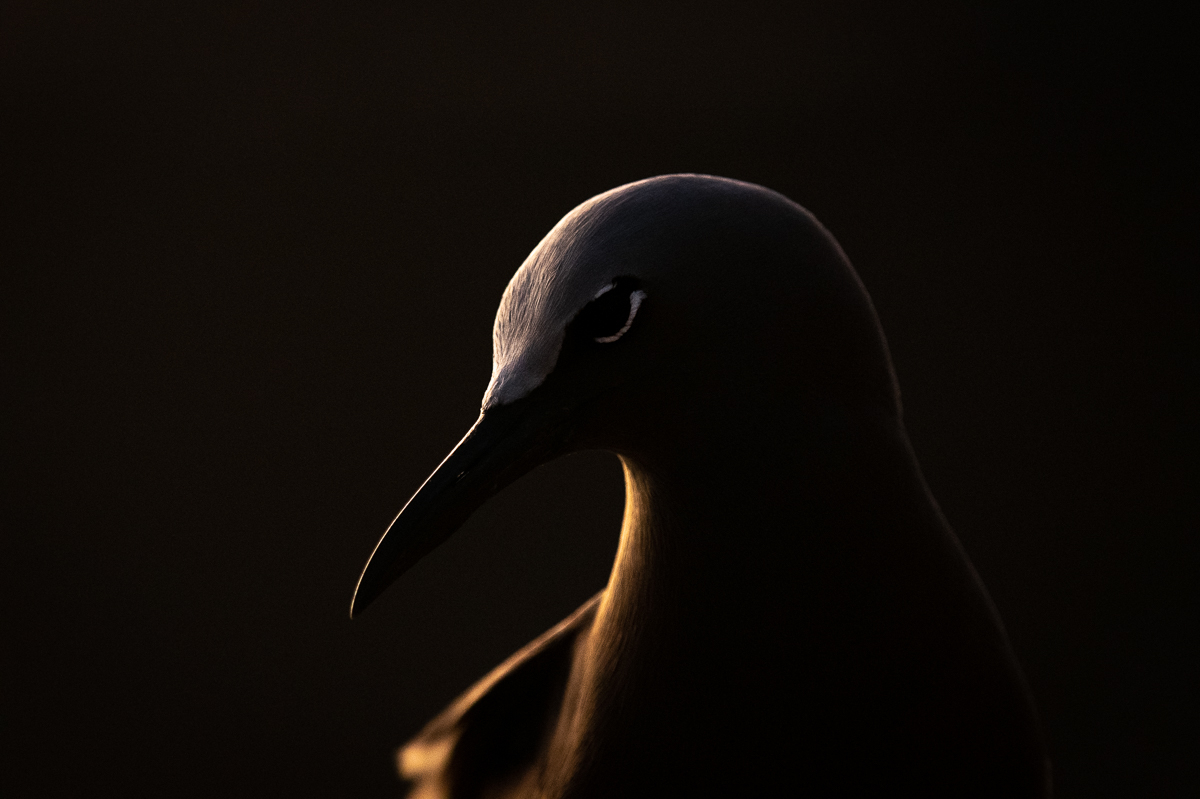 Brown noddy
November 2022 (La Réunion)
I loved watching this colony of Noddy, with a lot of behaviors and interactions between individuals. I waited for the last light of the day to make some pure images where only the edges are visible in the dark, I really like these moments where even the white edge of the eyes becomes difficult to see.
---
Swallows' cave
November 2022 (La Réunion)
It was amazing to spend a few hours in this hazy, tropical atmosphere. It is the Mascarene swallow, whose breeding colonies are located in the caves, the nests are made of moss or lichen and adhere to the wall thanks to the saliva of the birds.
---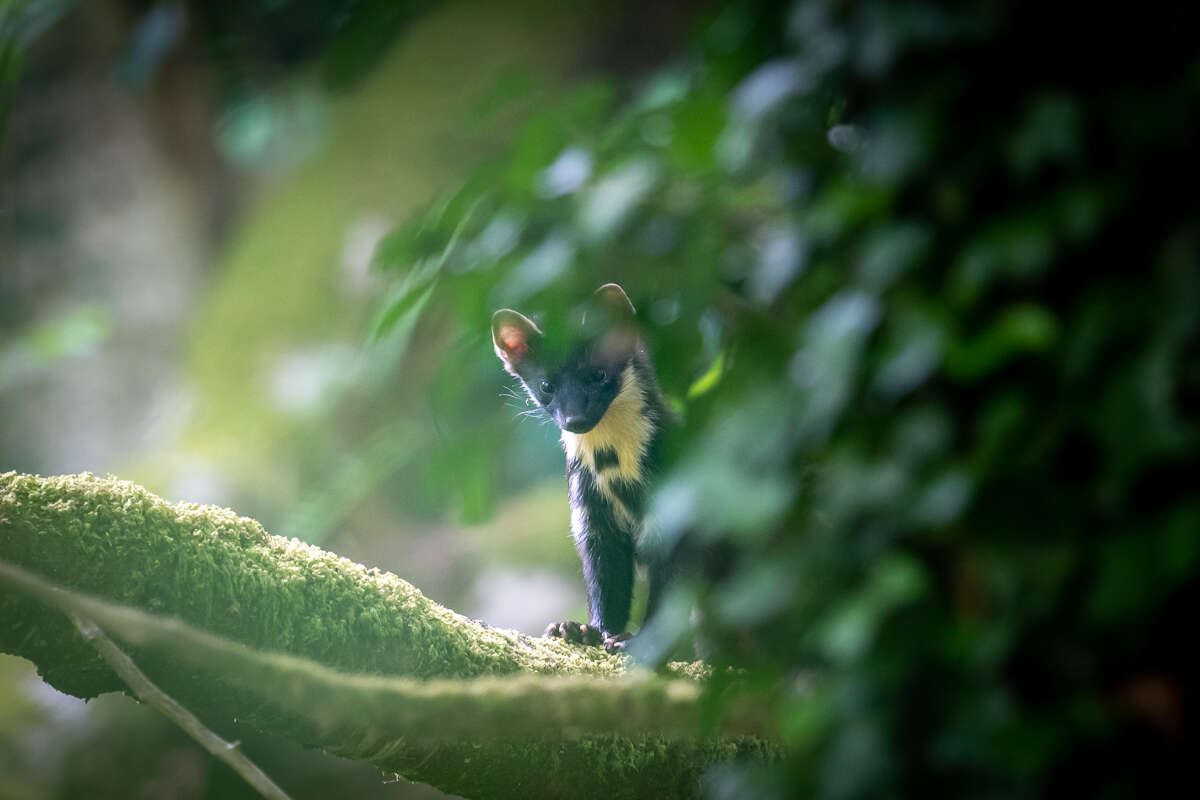 First marten of the year
June 2022 (Finistère, France)
What an incredible moment, already several hours to observe it, and always so much pleasure. This day, she was picking her teeth in front of me on pieces of wood, maybe because of the beetles' elytra that she consumes a lot at the moment. This adult is currently bringing up a youngs, who is even starting to accompany his parents to hunt.
---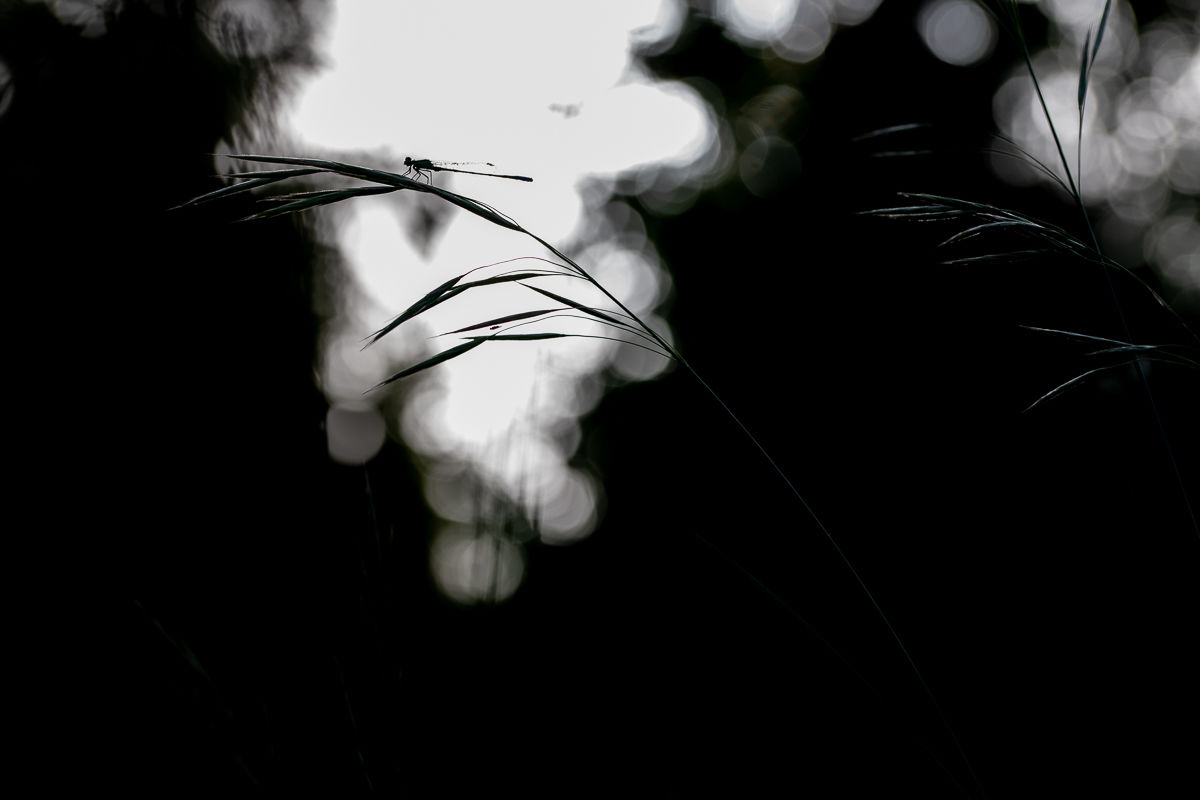 Print of a damselfly
May 2022 (Ain, France)
Inspiration is sometimes hard to find. Here I stayed several hours at the edge of a pond to observe, without taking any photograph. By dint of observing the lights, I had the idea of this somewhat enchanting obscure photograph.
---
Explosion of colours
May 2022 (Ain, France)
Making a good photo of a butterfly that conveys an emotion is far from easy as the composition and light are so difficult to imagine and work with. Here I tried to use the many yellow flowers to highlight this Sooty copper, without showing it totally. The spring awakening in this meadow was great after a period of intense stress at work.
---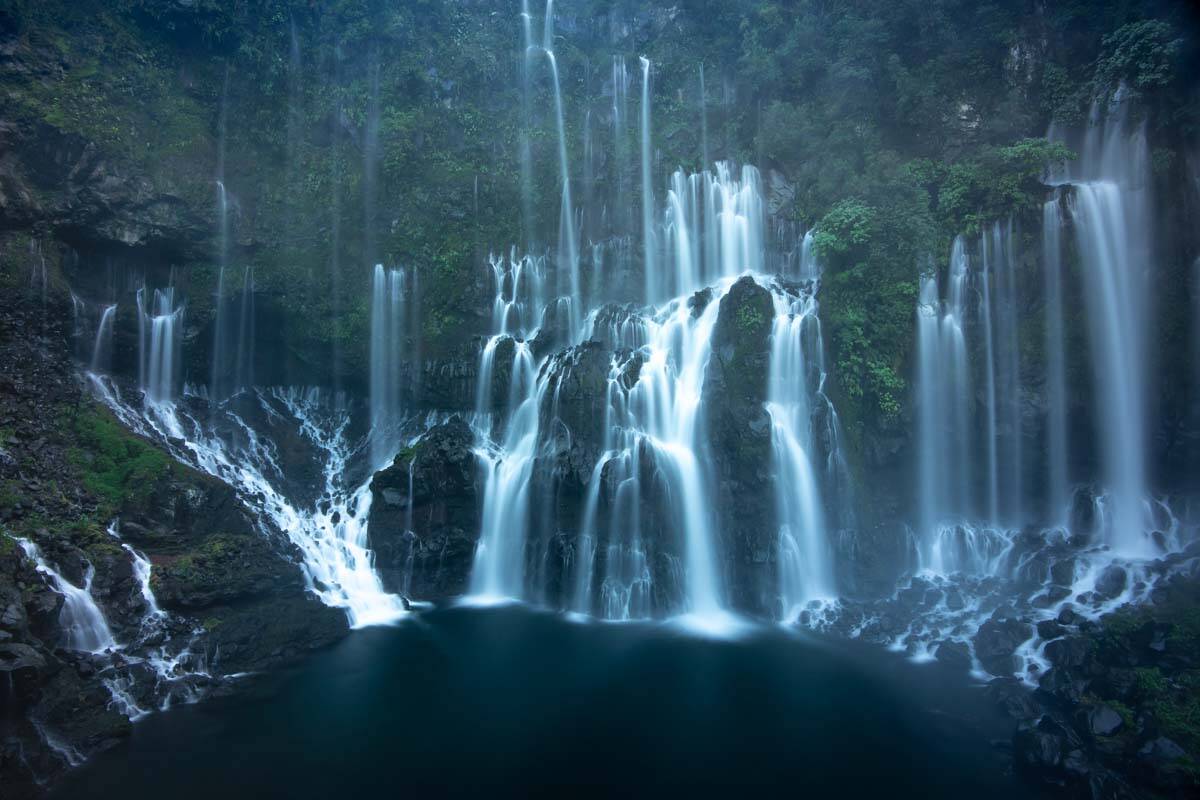 Cascade du trou noir
April 2022 (Réunion Island)
This waterfall was very impressive, but I found it especially aesthetic early in the morning in this dark atmosphere. It was quite difficult to photograph it because the spray soaked the equipment in only a few seconds, so the time to make the right photograph was very short. I will always keep an incredible memory of the atmosphere that was emanating from this valley.
---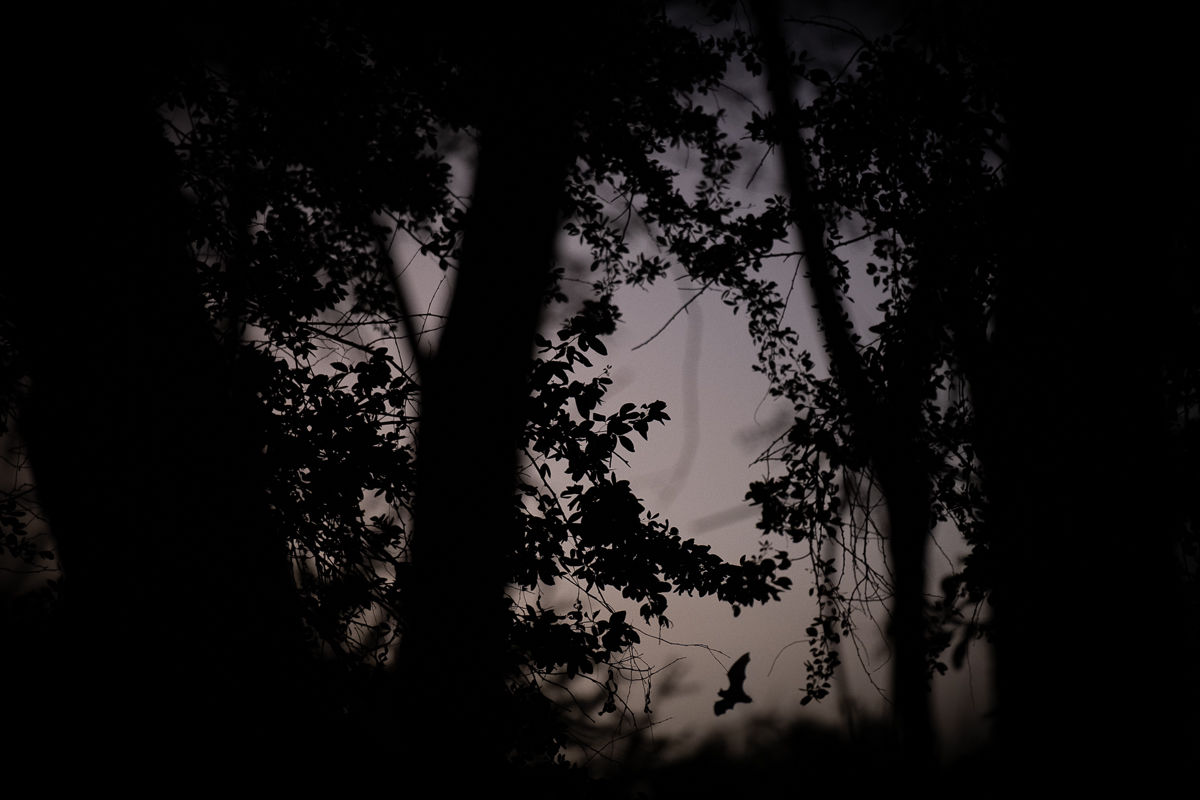 Bat silhouette
April 2022 (Réunion Island)
The bat is out of focus in the photo, but it doesn't matter, I was looking for an atmosphere to give the image a soul. I photographed this bat in the undergrowth after observing the emergence of a colony of several tens of thousands of individuals, an incredible moment. Thanks to the Indian Ocean Chiroptera Group for this evening!
---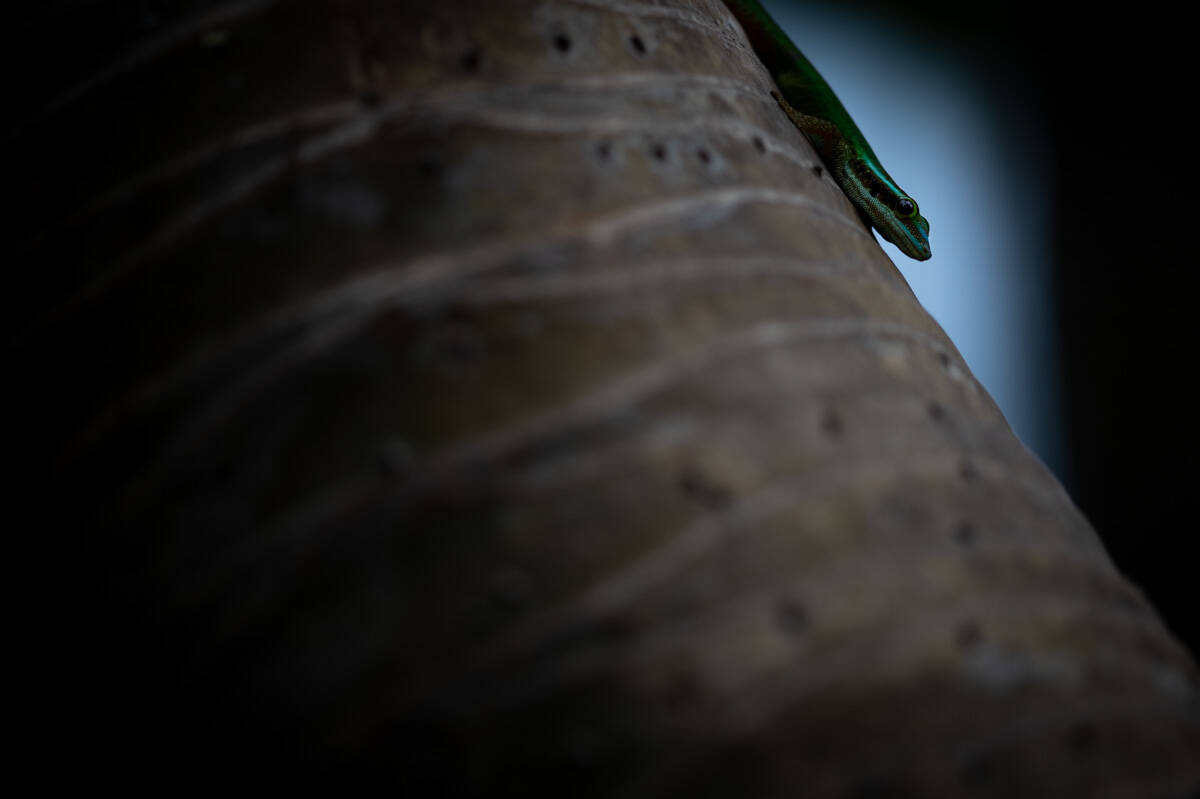 Shadow of a Manapany gecko
April 2022 (Réunion Island)
The Manapany Gecko is a critically endangered species, notably because of other Gecko species introduced on the Reunion Island. I had the chance to observe several individuals for a long time. This Gecko is incredibly pretty, and I chose to highlight it in a twilight atmosphere.
---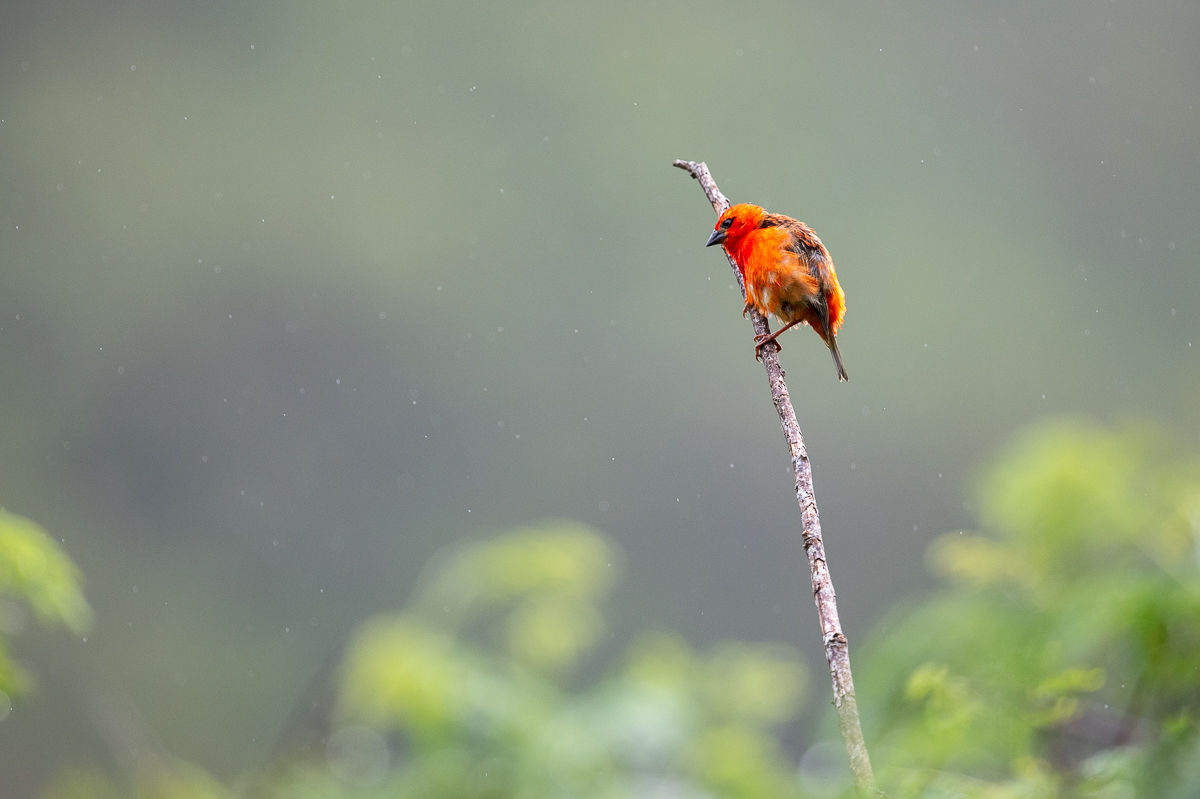 Cardinal under rain
April 2022 (Réunion Island)
I am not used to photographing the brightly coloured wildlife of the tropics, so this is a real challenge for me. Here I found the light and colours soft enough to highlight this bird in the rain.
---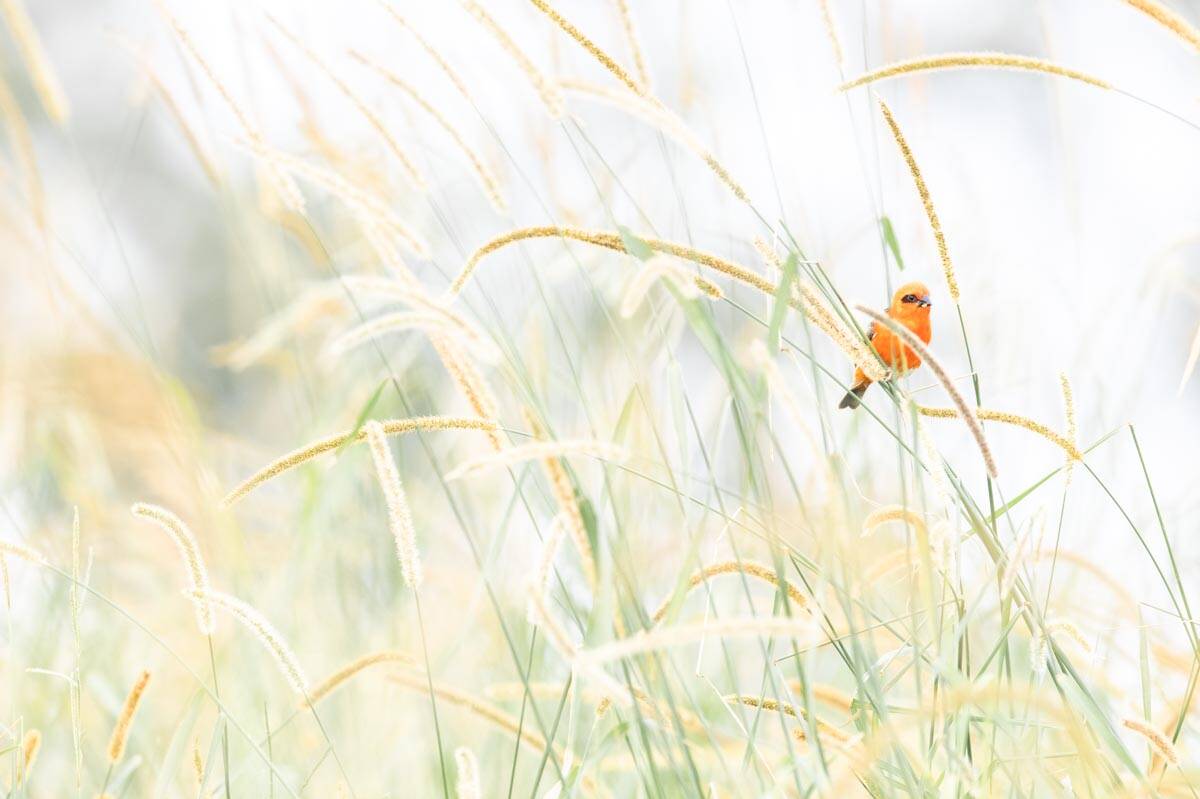 Pastel ambiance
April 2022 (Réunion Island)
I had spotted that the tint of this meadow at a certain angle in the sun at the end of the day made it possible to whiten the images and obtain pastel results. Even though this bird is exotic and invasive, I had a great time watching them feeding in groups on the spikes of these grasses.
---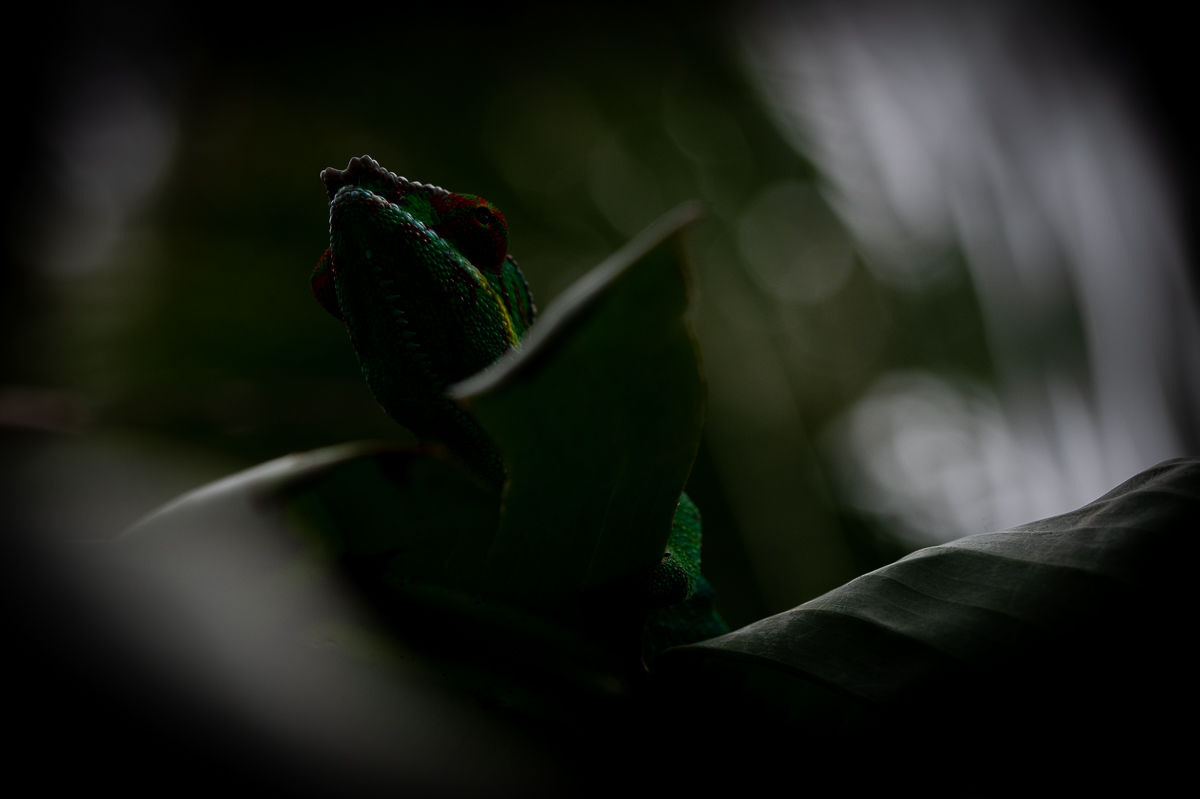 Chameleon
April 2022 (Réunion Island)
I like to suggest rather than show in photography. Dark atmospheres are the ones I prefer to work with, I find they allow me to suggest a lot more to the public through their mysterious side, each person can imagine their own story.
---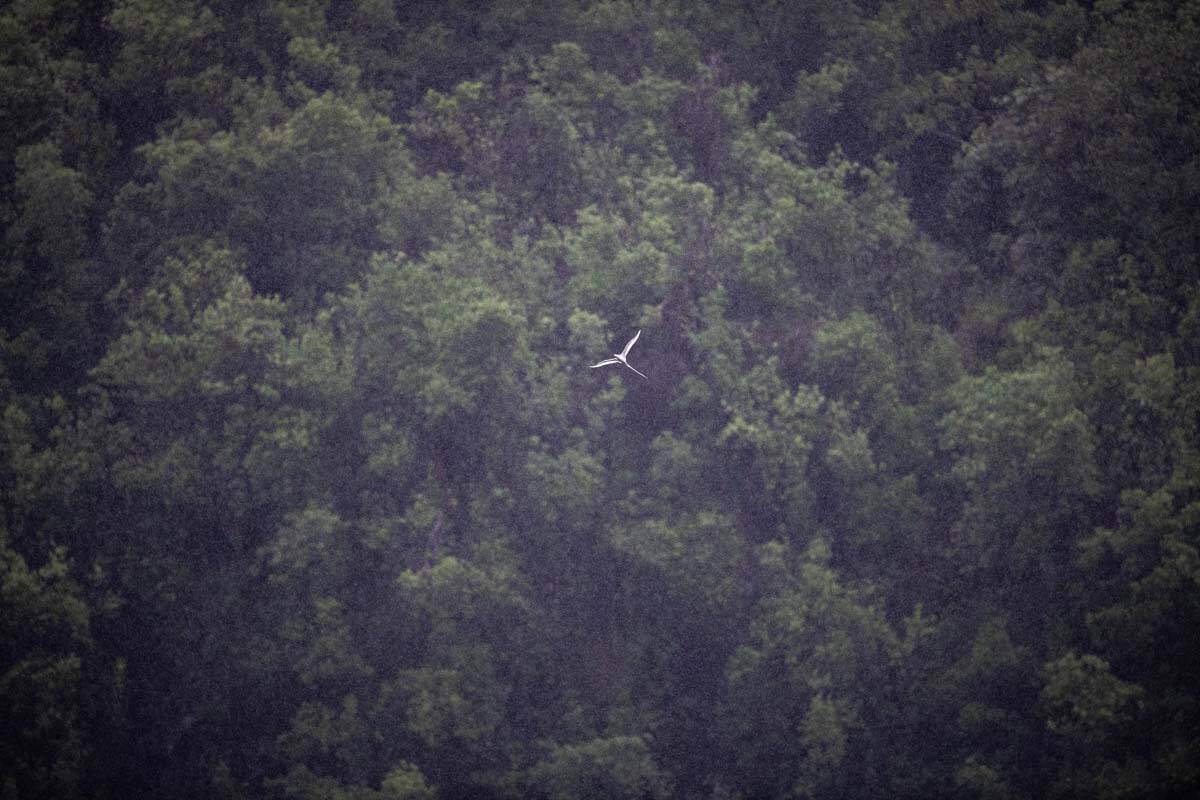 Paille à longue queue under rain
April 2022 (Réunion Island)
I photographed this bird in a valley with magnificent rainforest walls, a very impressive landscape, and lots of rain. It was a completely timeless atmosphere.
---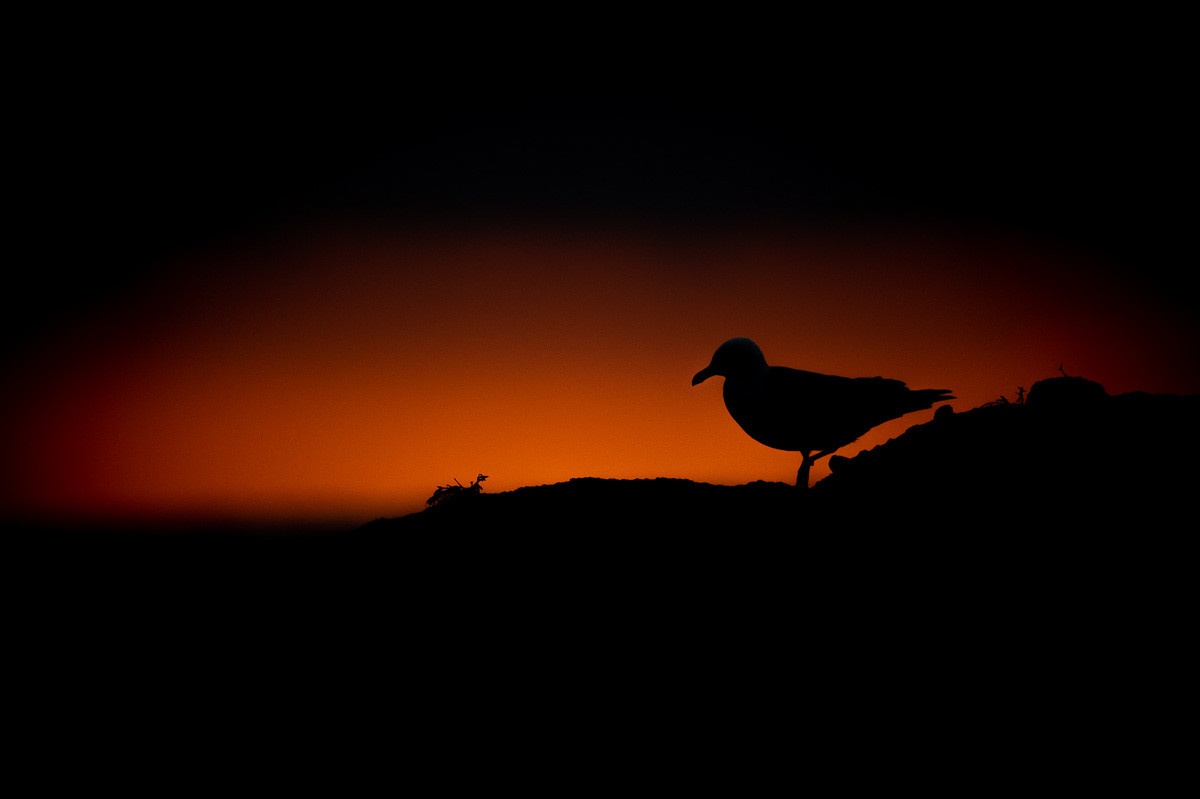 Goeland shape
February 2022 (Finistère, France)
I took this picture one morning just down from my house. The ocean offers so many sunrises, each day different. This one didn't offer much light, with a cloud-laden sky on the horizon, allowing for that fireball effect surrounded by black.
---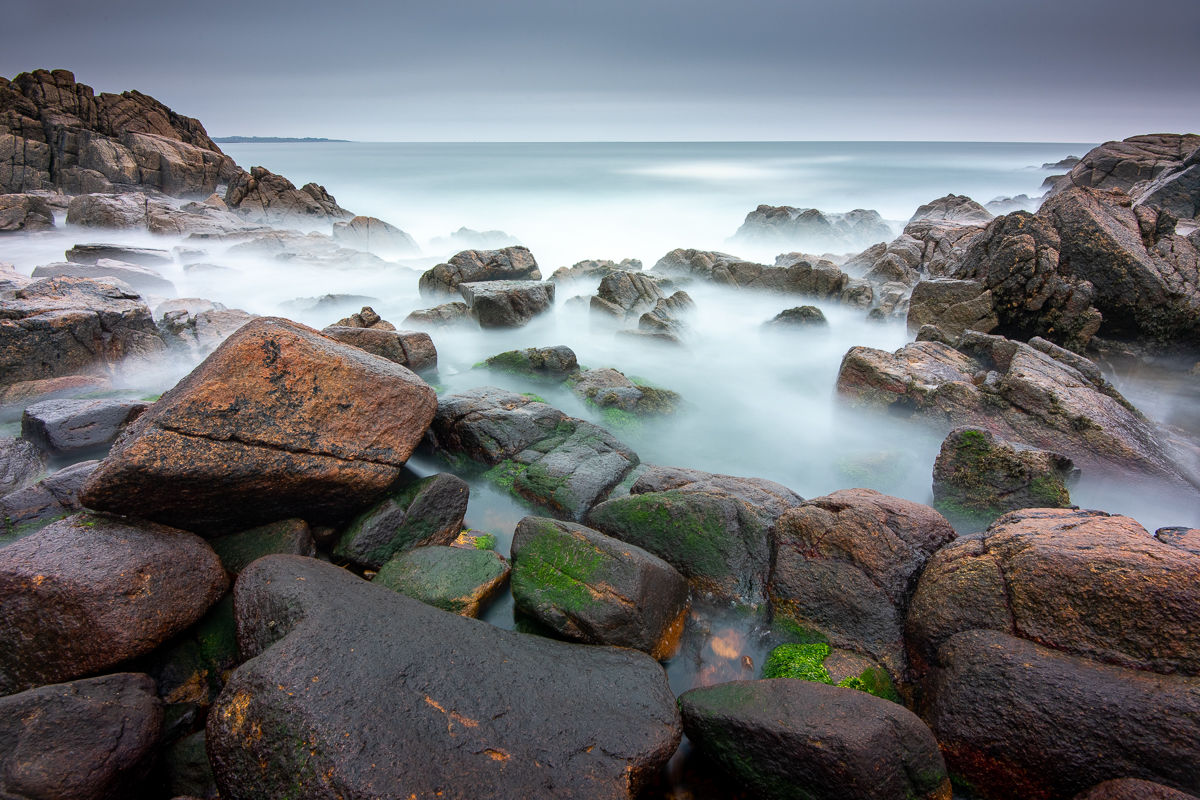 The blue hour
February 2022 (Finistère, France)
I love to contemplate nature early in the morning before work, without humans, listening to the gradual awakening of the birds. The blue hour, on an overcast day, allows me to freeze soft pastel shades, almost unrealistic.
---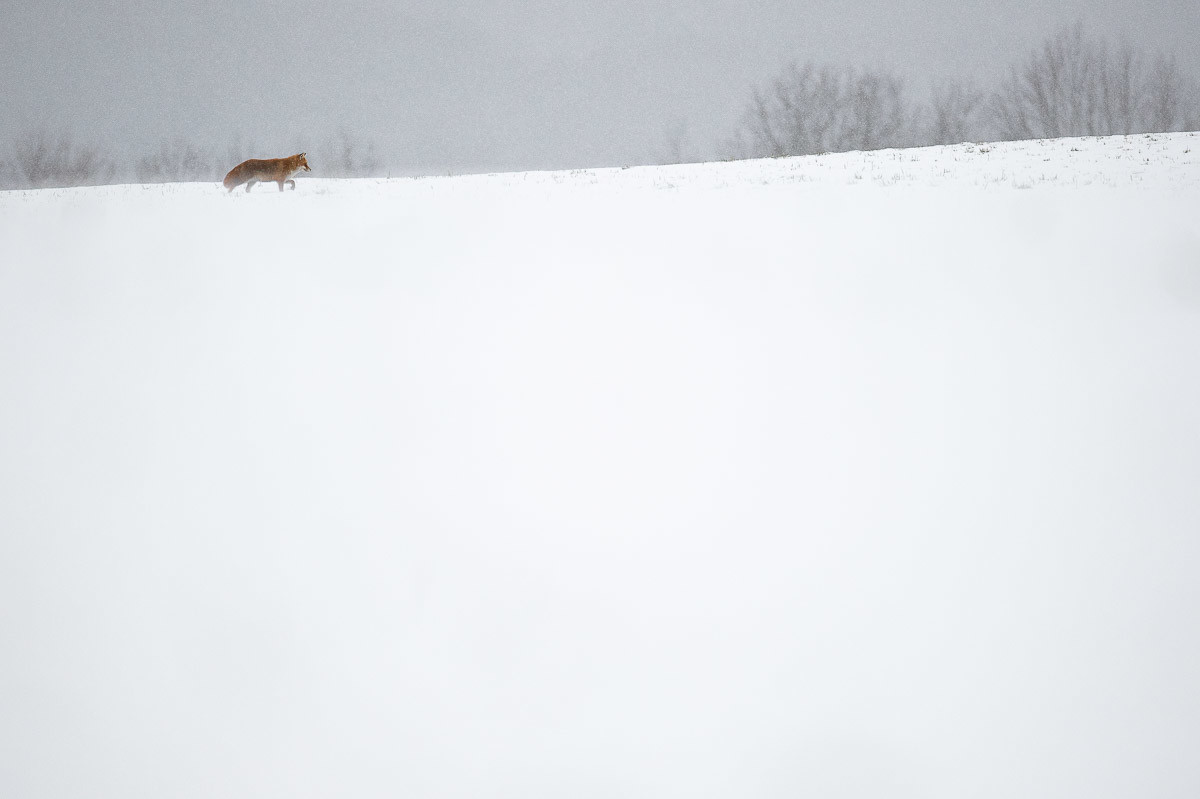 Fox in the snow
January 2022 (Ain, France)
I had the chance to spend several days with this grassland guardian fox. He seemed passionate about the snow, amused, but very efficient. Despite his distrust, I was able to make this picture under the snowfall, with great care not to disturb him.
---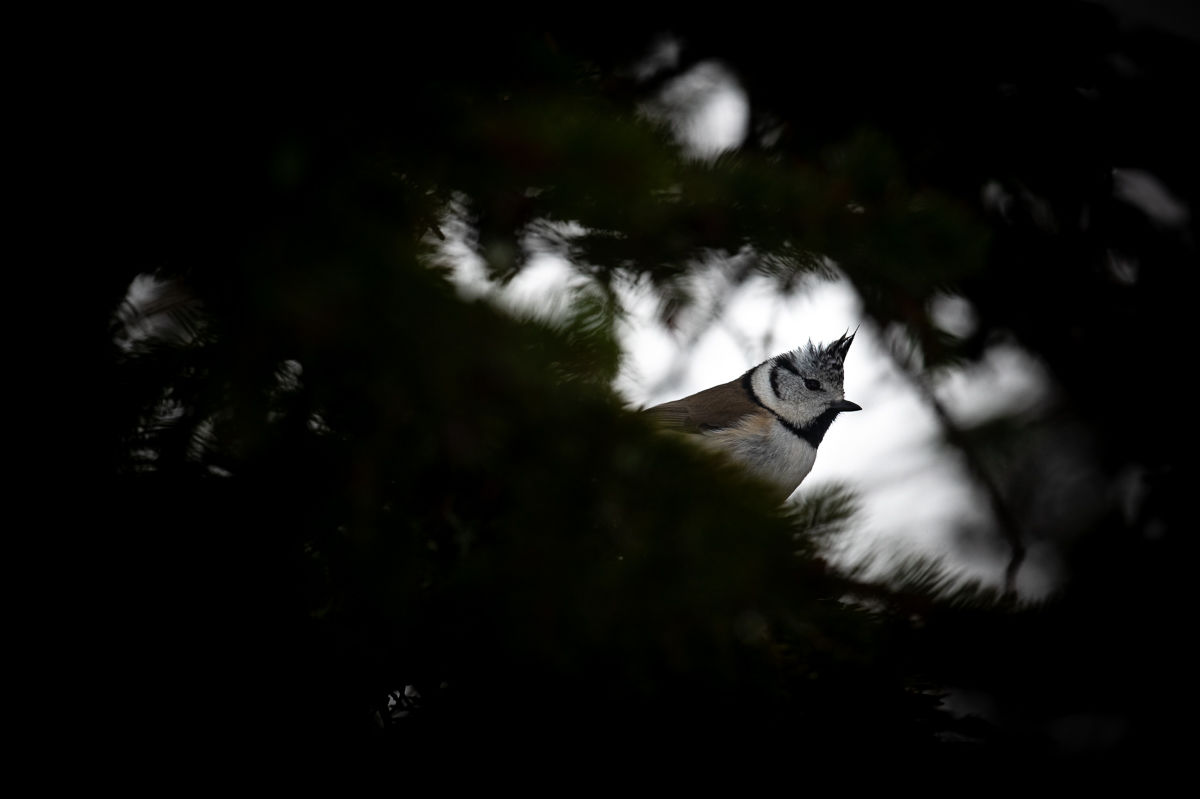 Crested tit shape
December 2021 (Ain, France)
A morning with superb white and subdued lights on the crests of the Ain mountains, where I could take a picture of this titmouse in a gap through the fir trees.
---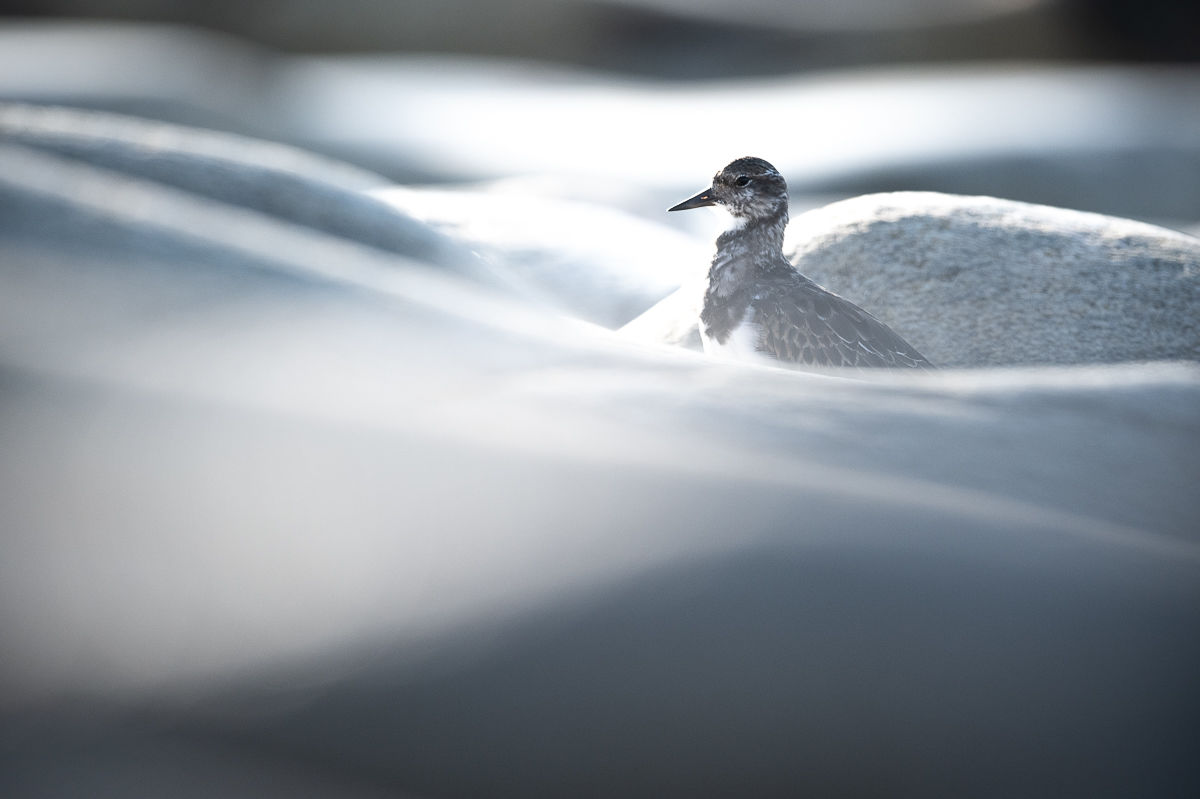 Ruddy turnstone
October 2021 (Finistère, France)
I don't like strong sunlight in the middle of the day, but I tried here to take advantage of these highlights to create a soft atmosphere.
---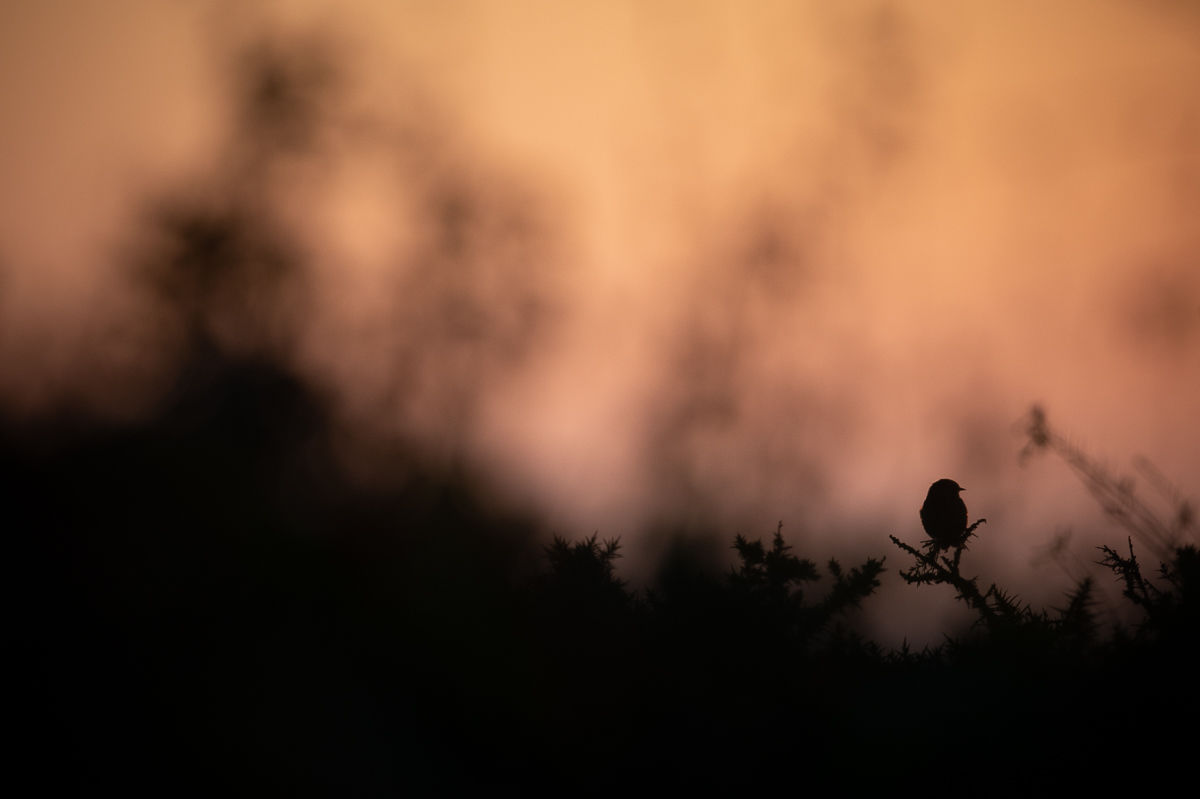 Elusive shadow
October 2021 (Finistère, France)
The atmosphere at sunrise on the Brittany islands (here Molène) is always incredible with these lights and migratory birds.
---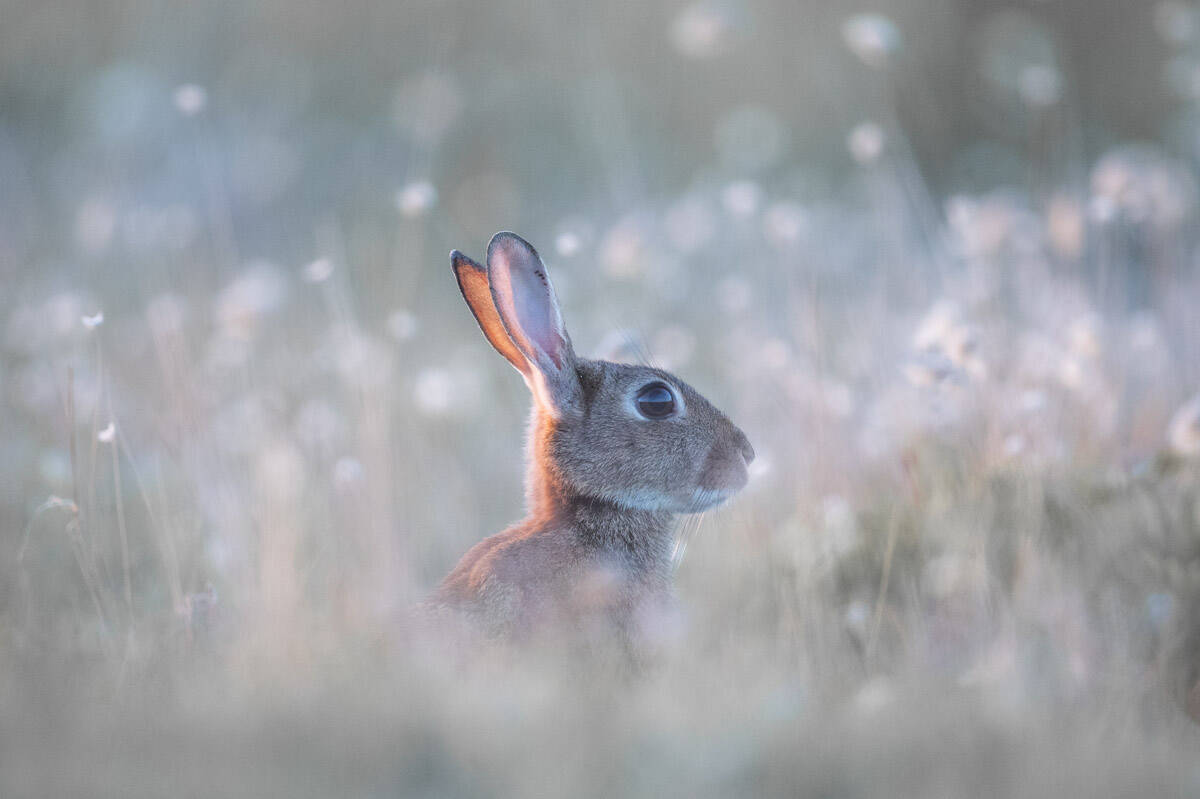 Brittany rabbit
September 2021 (Finistère, France)
After several weeks of regular spotting, I had the chance to spend hours with the rabbits in the soft evening light amidst the plants that give the image a cottony look, exactly what I was looking for.
---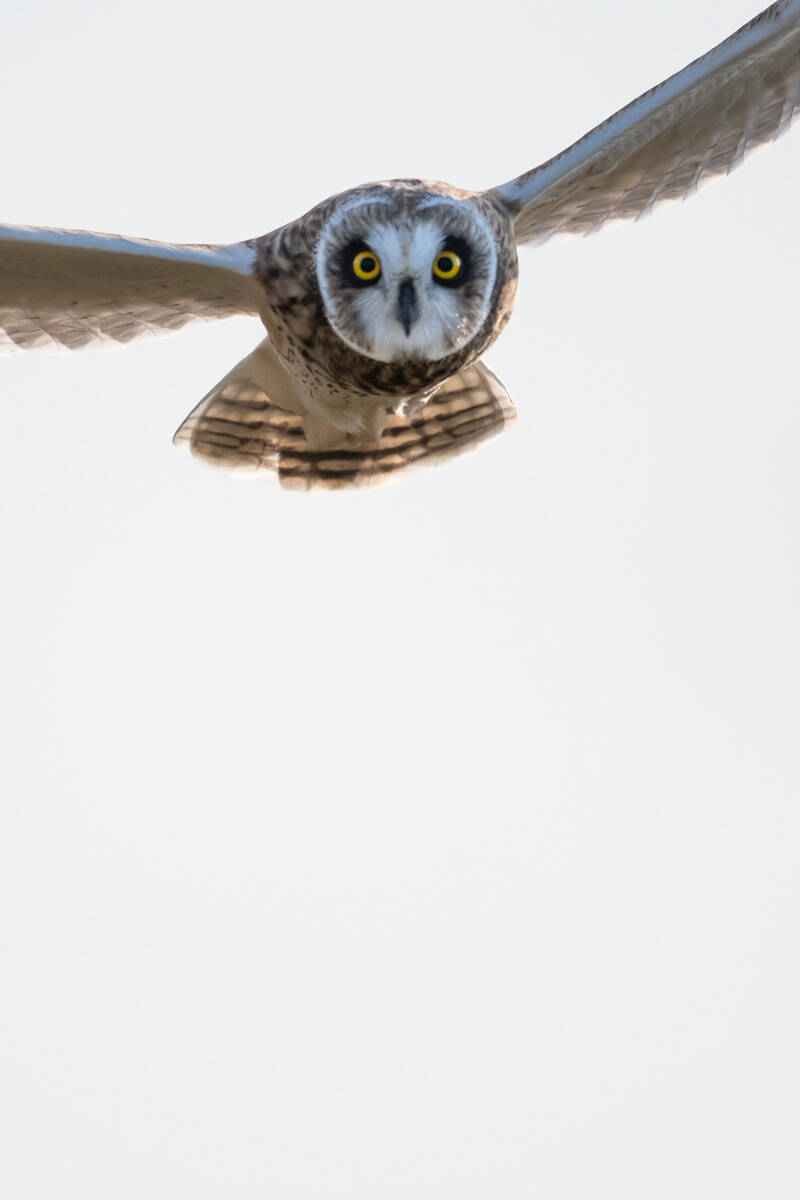 A curious owl
September 2021 (Vendée, France)
I had carefully identified the routines of this owl in order to anticipate its movements and choose an optimal blind spot in order not to be discovered, but it saw me right away despite my camouflage efforts.
---
Cormoran at night
August 2021 (Finistère, France)
I had been thinking about this image for several weeks. I had spotted this silhouette in an incredible atmosphere, quite late at night. I really like this time of day when the colors disappear to let the contours and shadows express themselves.
---
Flying dragonfly
June 2021 (Indre, France)
I was thinking about this type of image for a long time, that day the lack of light and the rain at the edge of the beautiful Creuse river inspired me this composition. I always prefer gray skies, it reveals contrasts by blurring the colors, and the light becomes soft...
---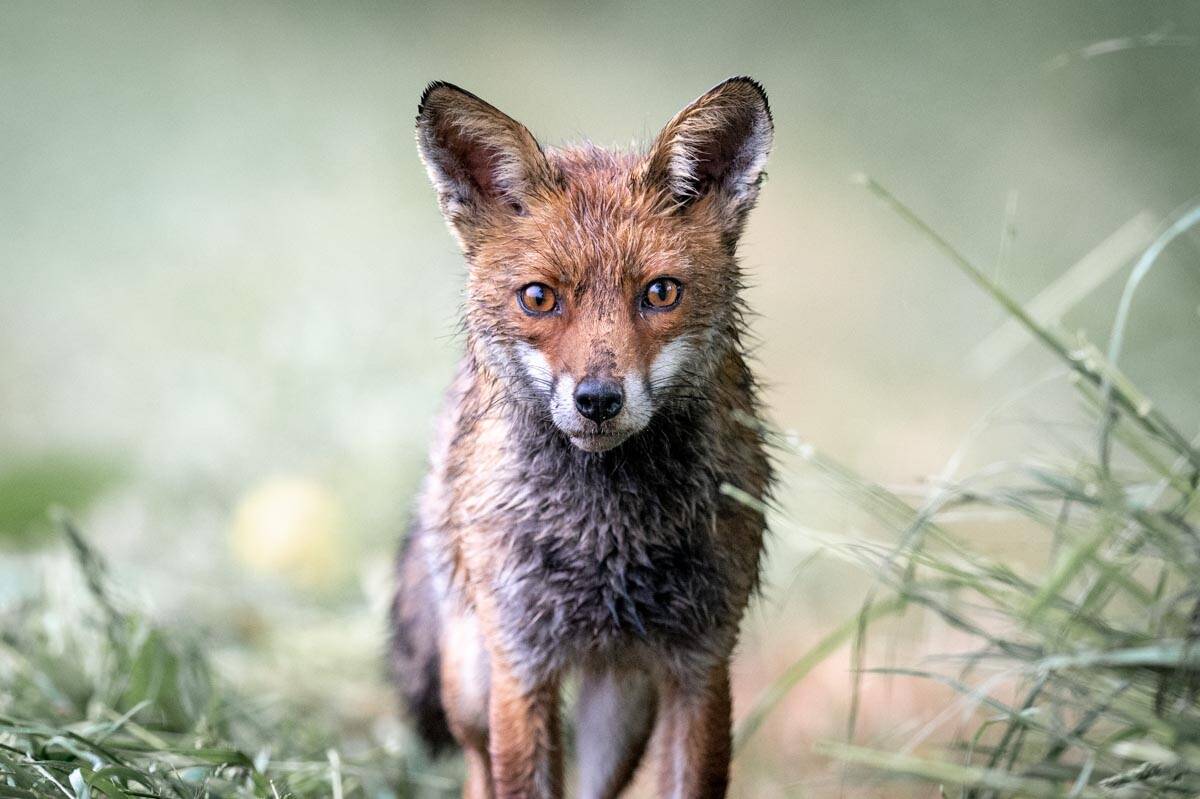 Red wet fox
June 2021 (Finistère, France)
This morning the situation was perfect, the wind, the anticipation of its trajectory, a soft light and humidity. The fox is coming to me, I am perfectly invisible, and he offers me this portrait before continuing his way...
---
A mother of two children
April 2021 (Finistère, France)
I was preparing this image for several months. I really wanted to capture the conditions in which we observe badgers most of the time, in the dark, only distinguishing their white mask and the noise of their grooming session.
---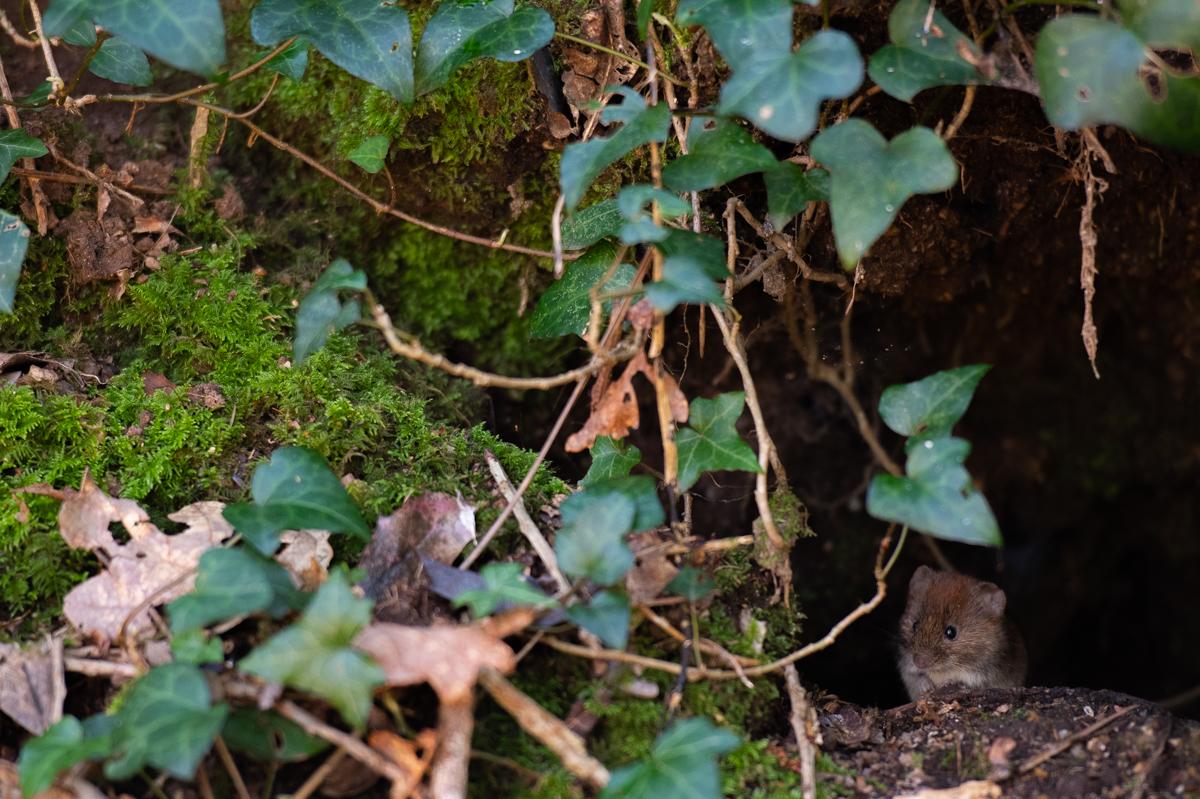 Bank vole on its observation post
March 2021 (Finistère, France)
This vole came regularly to watch the surroundings from its burrow, and seemed to accept my presence.
---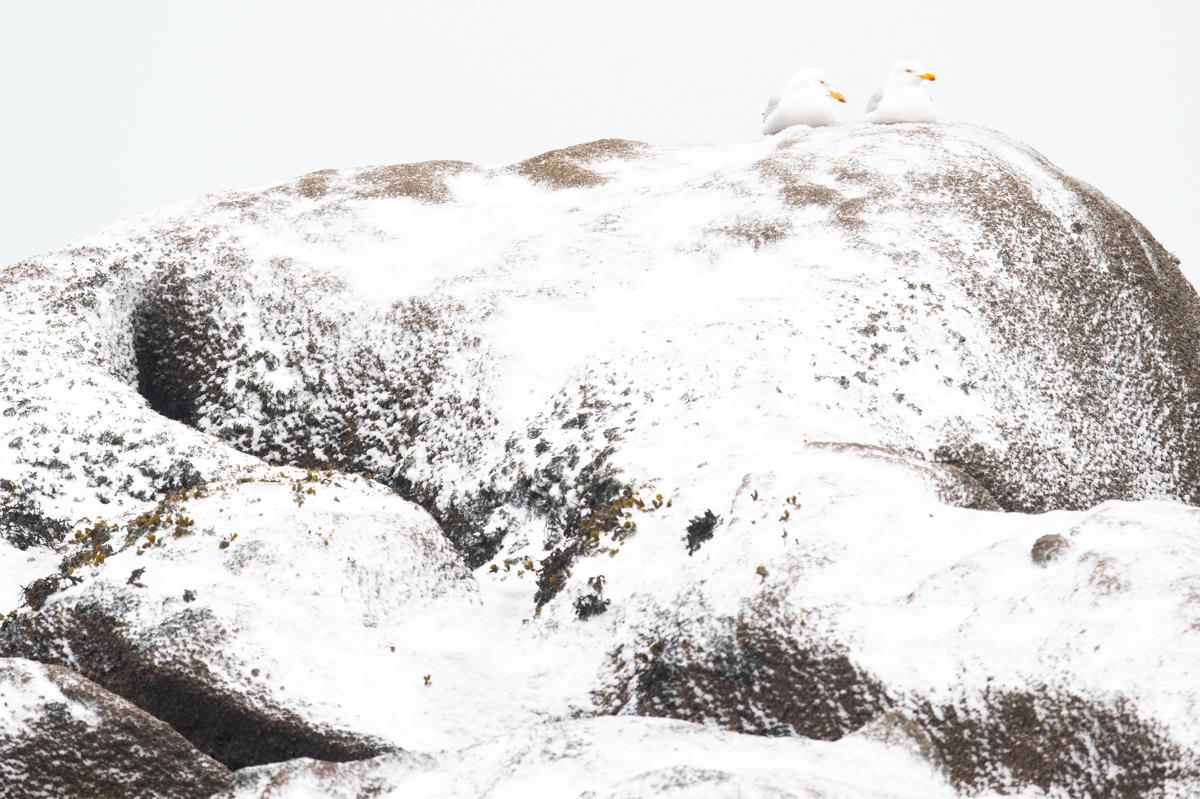 Gulls on a snowy day in Brittany
February 2021 (Finistère, France)
That day, it was an incredible morning with heavy snow showers on the Brittany coast line, I couldn't miss this opportunity to photograph this unusual situation making the coastal landscape unbelievable. I immediately went to lie down on the foreshore among shorebirds, that's where I was able to capture these two gulls.
---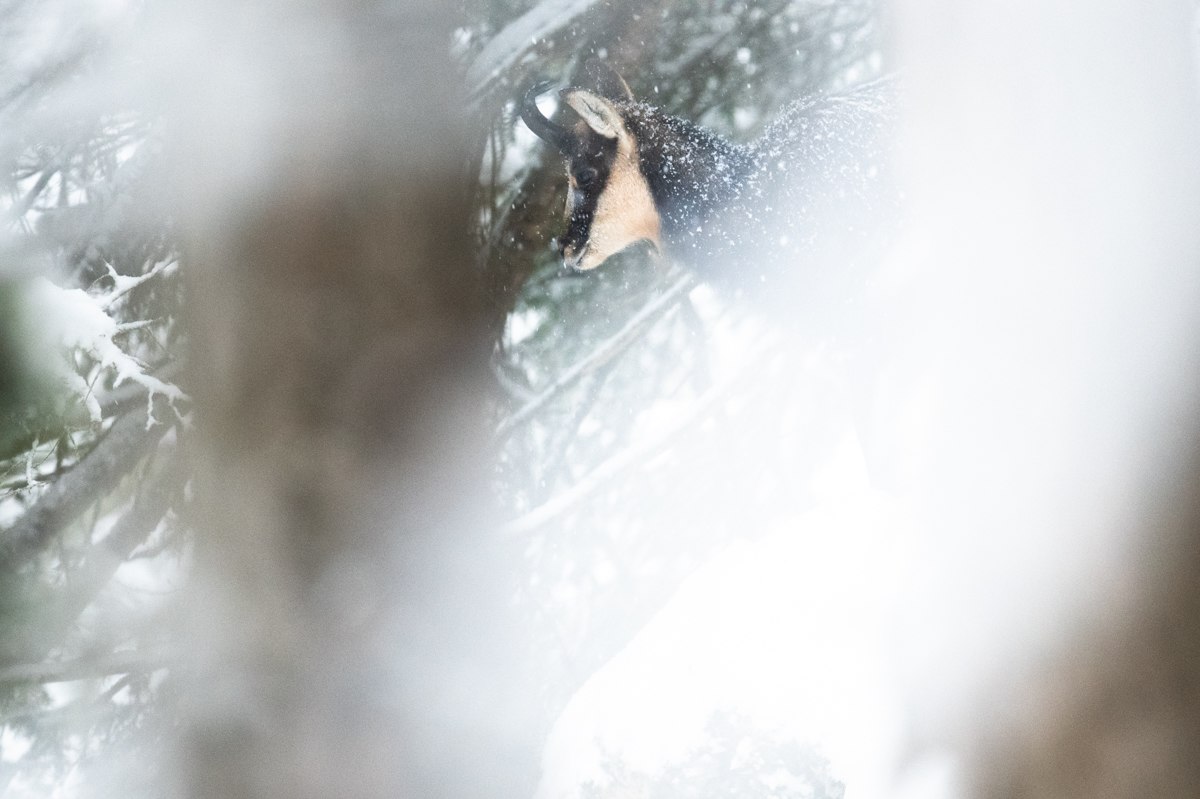 Chamois under snow
January 2021 (Ain, France)
I had the chance to spend a few minutes with this Chamois after a day of walking under falling snow. A few days later, I found fresh prints and urine of Lynx at this place...
---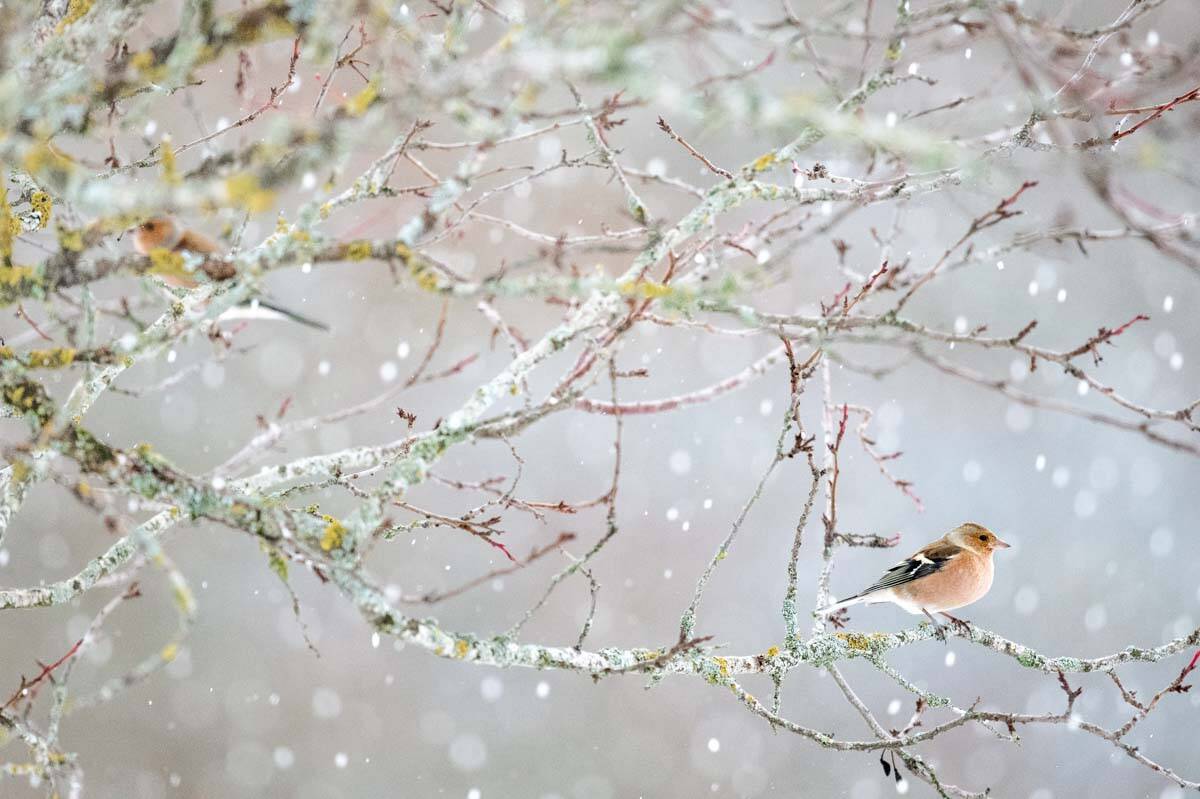 Chaffinch under hail
December 2020 (Ain, France)
I had the chance to photograph this finch under a short hail shower during a snow day, the light and conditions were amazing.
---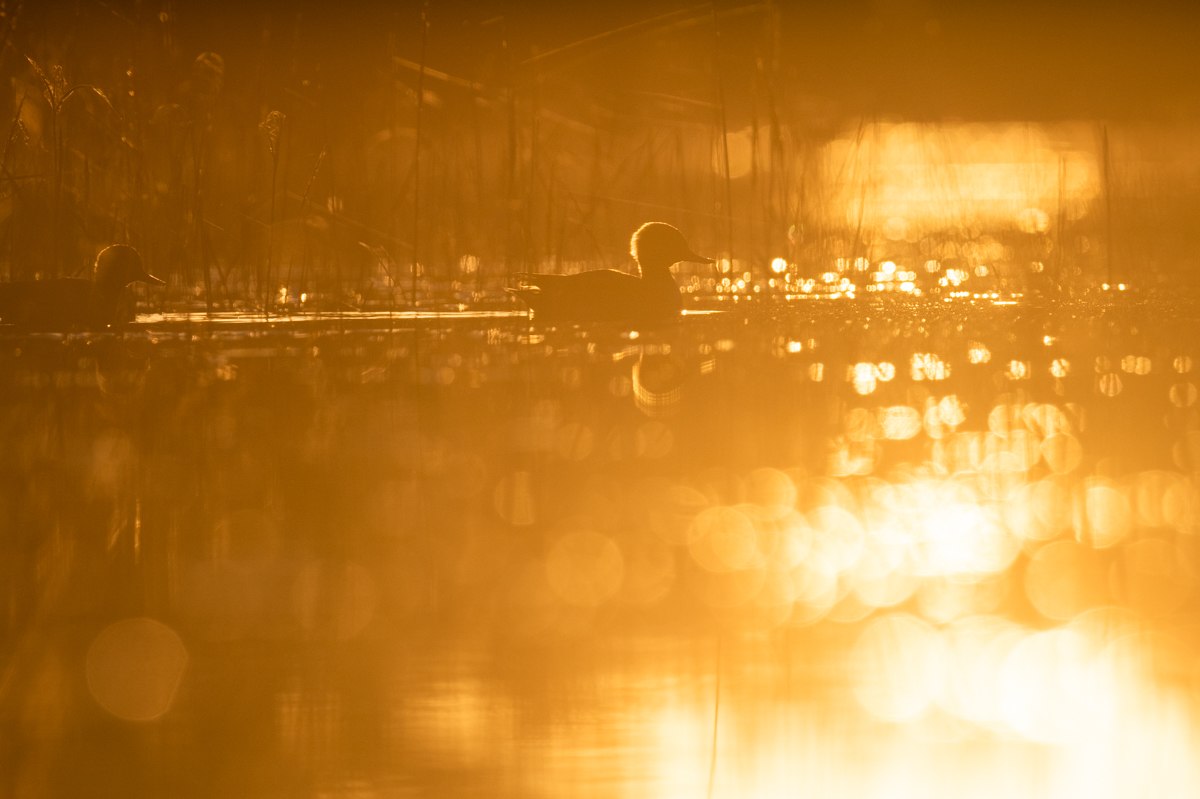 Green-winged teals at sunset
November 2020 (Finistère, France)
I realized this image after 12 consecutive hours of blind in the water. Not disturbing the animals is a very important thing, in the case of water blinds I try as much as possible to arrive before sunrise and leave after sunset. Spending many hours close to animals, living at their own rhythm, is a key to capture rare moments.
---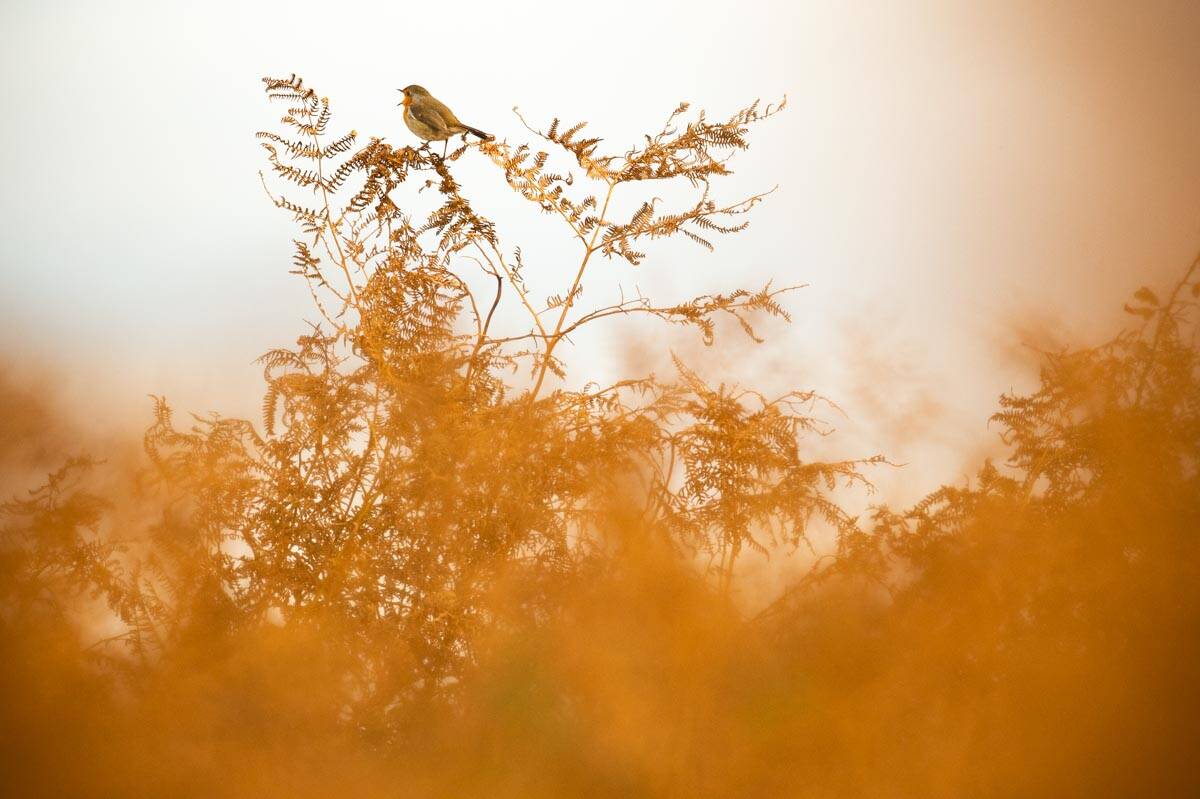 First call of the day
October 2020 (Finistère, France)
The autumn migration period is impressive on the islands of Brittany, here in Molène, a lot of birds stop to rest and feed.
---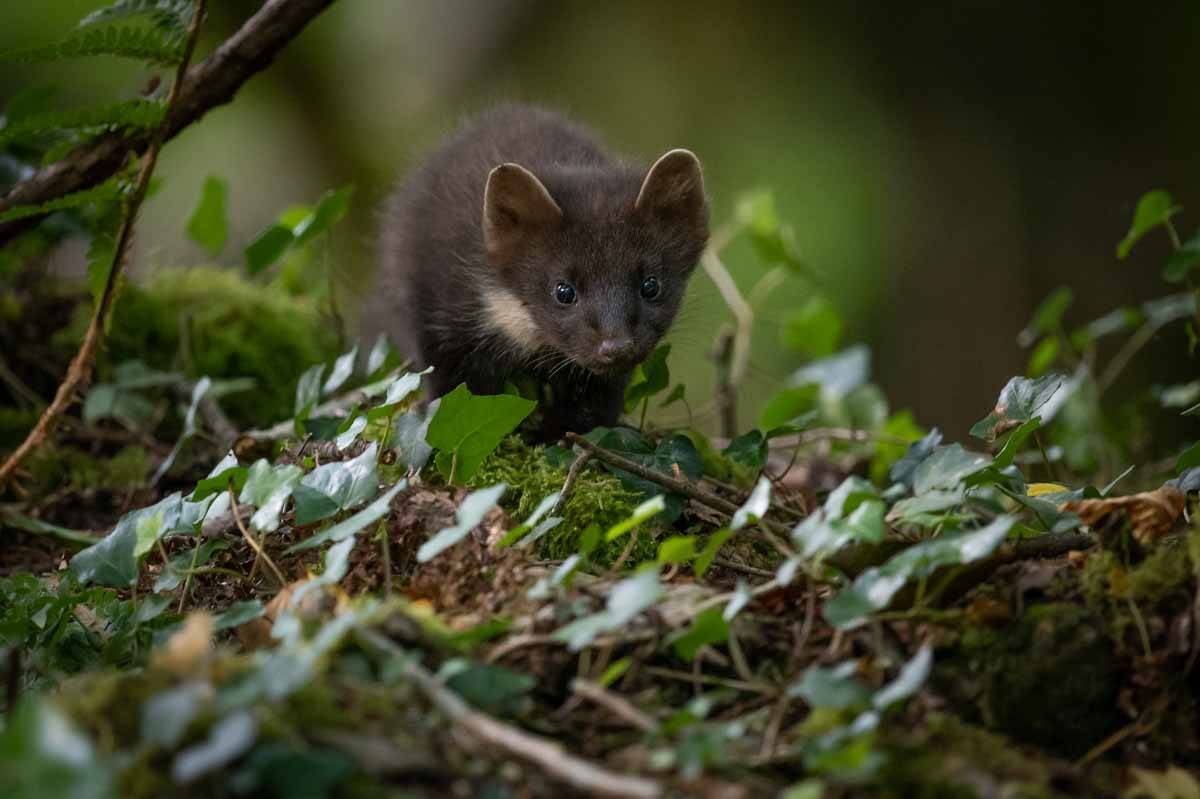 Young marten
June 2020 (Finistère, France)
I had the chance to follow during several weeks a family of martens with three youngs, to observe them discovering their environment, each one with a different personality, was fascinating.
---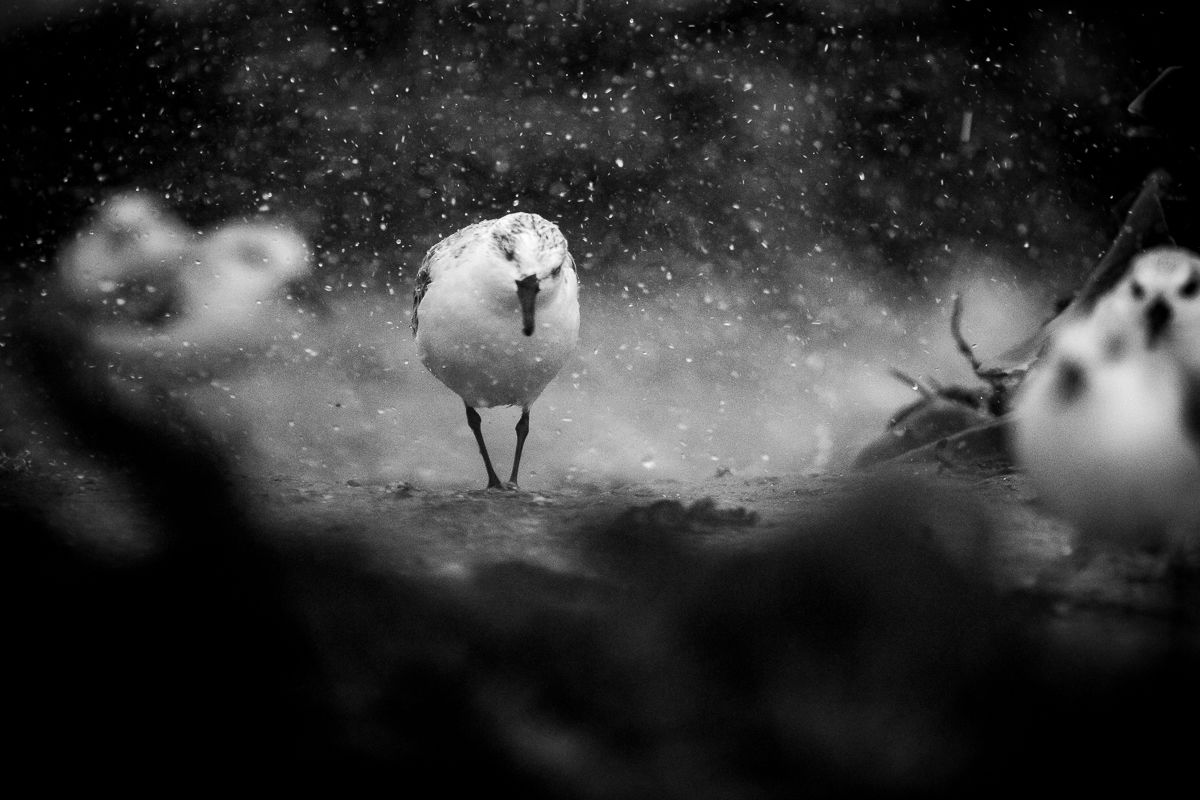 Sanderling sandpiper under storm
November 2019 (Finistère, France)
For this picture I hid in a big pile of seaweed, I was waiting for a very heavy rain and hail shower, hoping that a bird would come in front of me to show me its resistance to weather conditions.
---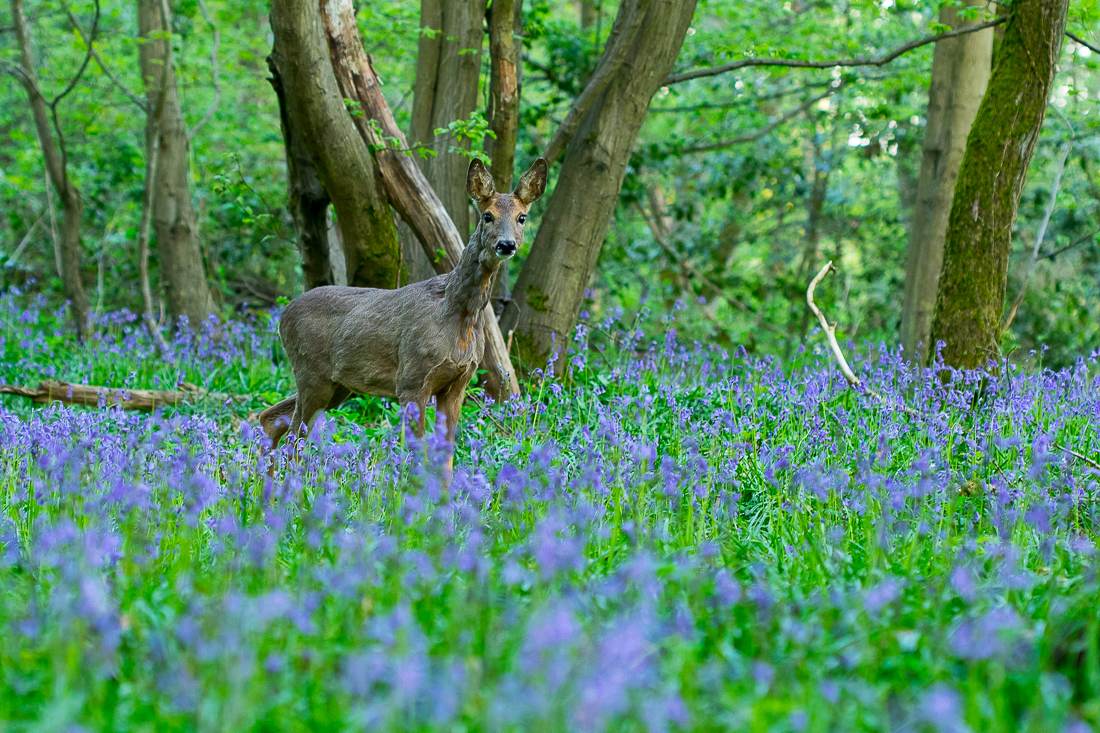 Hesitation
April 2016 (Essonne, France)
I was lying in the hyacinths when this deer came very close to me, he was very curious. This evening was really very pleasant, mild and calm, with the spring awakening.
---
---